Sep,01 2014
Aug,31 2014
Week 4 of Tumble, and Sarah showed off her skills with a ball.
In her VT this week, we saw her struggle with coordination, but having a lot of fun and laughs in rehearsals. On the night, she made a few errors in her performance, but continued on and styled it well. She got a score of 29 from the judges.
She is also through to next week's Semi-Finals, well done Sarah! This means we get to start voting!!
If you missed it, give it a watch above! Thanks to Will for ripping this for GAM, watch above for Sarah's parts.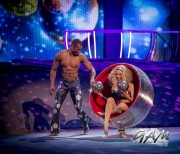 Aug,31 2014
The X Factor Season 11 kicked off last night on ITV1, and as usual did not disappoint! The first show includes a past contestant making Cheryl cry (again!), 2 wacky girls being so irritating they are good (really Simon??!) and a fan of Cheryl's trying her best to impress.
If you missed it, watch it above or download on the forum. [DOWNLOAD]
Watch the spin-off show 'The Xtra Factor' here: http://www.dailymotion.com/video/x24xibz_xtra-factor-e-11-e-1_shortfilms or [DOWNLOAD]
Episode stills are on the forum too:
Aug,28 2014
Cheryl was seen on Good Morning Britain this morning, chatting to Richard Arnold as he caught up with her and Mel B backstage at an X Factor audition. Watch the interview above thanks to CherylCole Youtube.
She was also on a segment on This Morning, which you can watch below:
Aug,27 2014
Part 2
Part 3
Part 4
Thanks to TeamGirlssAloud -Wiki on Youtube.

Take a trip down memory lane, with Cheryl's favourite moments of her time on The X Factor so far. From laughing too much at Ant & Seb, to breaking down in tears when she saw a familiar Pop Stars The Rivals face. This show features new interview clips from Cheryl as she talks us through her best bits and her winning moments as a judge. Can she win again this year?
[DOWNLOAD] from the forum
Aug,26 2014
Nadine appeared on the Irish chat show over the weekend, which was recorded the previous night.
She talked about her daughters sleep patterns, and how becoming a mother has changed her, how she got involved in Dangerous Games, her accent, and a new album being in the pipeline!
You have

19 days

to watch the interview on the RTE Player here: http://www.rte.ie/player/gb/show/10316618/ from the 28min 30seconds mark!
If anyone could screen record the interview for our forum it will be appreciated!
Aug,24 2014
Week 3 of Tumble, sees Sarah do a chinese-inspired performance on the trampolines.
In her VT we saw her stress a lot about her back flip, but on the night she nailed it! A few harsh comments from the judges this week, but she got 26.5 points and is through to week 4.
If you missed it, give it a watch above! Thanks to Will for ripping this for GAM, watch above for Sarah's parts.
Aug,22 2014
StormFlower is available now from Superdrug and The Perfume Shop nationwide.
For more information on StormFlower head to www.cherylfragrances.com