Oct,01 2014
Currently at home with her newborn son Bobby, Kimberley recorded this show a few months ago for Sky One, which aired on Monday.
If you missed it, watch again on the above video.
If you can't watch it above due to country restrictions, download the file on the forum:
http://www.girlsaloudmedia.com/smf/index.php?topic=47217
Sep,19 2014
Nadine appeared on Good Morning Britain on Thursday morning to promote Lord of the Dance: Dangerous Games.
She talked about her role in the show, her baby daughter (the presenters either seem to forget Anaiya is her name or don't know how to pronounce it!) Nadine also 'fangirls' when she sees a clip showing of one of Girls Aloud's performances in the studio years ago.
Pictures of her in the studios [HERE] and leaving [HERE] are available on the forum as usual!
Sep,16 2014
Its the finals! Our lovely Miss Harding made it all the way through to the end and we couldn't be more proud!
Each finalist had to do a routine on the Trapeze before taking on The Vault.
Watch above and see Sarah's parts from the show, where she got 38 out of 40 judges score for her routine!
She didn't win, but came Top 3 couples for the series.
Sep,16 2014
This weekend was the Arena Auditions, where those that got through to the first stage, had to perform to a live audience.
Watch
Download
The X Factor UK S11 E05 – Arena Auditions #1
The Xtra Factor UK S11 E05 – Arena Auditions #1
The X Factor UK S11 E06 – Arena Auditions #2
The Xtra Factor UK S11 E06 – Arena Auditions #2
Sep,09 2014
Sarah went to the BBC Radio One studios today to appear on Scott Mills' afternoon show to play the infamous Innuendo Bingo.
The game is simple, sit opposite someone, hold some water in your mouth whilst you listen to a funny innuendo. If you laugh, the water from your mouth will obviously be sprayed over to the person opposite you.
Sarah got quite drenched with this one! Watch it again on the above video.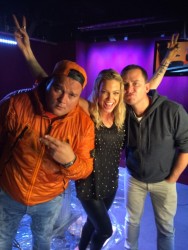 Sep,08 2014
Sep,08 2014


Thanks to @SarahAddicts for the video
It's the Semi-finals! Time for Sarah to do 2 routines, a floor performance with her pro partner Leon and then the Beam, on her own!
Firstly, she turned into Spider Woman, and did a fantastic floor routine. Mixed reactions from the judges (Booo Hissss!!) but gained a score of 29.5.
Next up was the Beam. The girls in the semi-finals get 40 seconds to show their moves. Sarah was up first, and fell off as she did her cartwheel but she quickly jumped back on to do a body lift, determined not to fall off again. This routine is scored by the judges but then the public vote to make sure their favourite is saved.
Thankfully, from all our votes, Sarah got through to the finals, so well done to all who voted on Saturday!
Watch the emotional night in the above video, download and see more pictures below.
Sep,04 2014
Thanks to SarahHardingAddicts

This morning, Sarah appeared on Lorraine on ITV1.
She talked about Tumble and being impressed with how far shes got on the show.
She revealed she is on the beam on Saturday on her own, and then doing a floor routine with Leon, her Pro Partner.
She also mentions her solo music will kick off at the start of next year!
Watch above if you missed it.