Oct,13 2013
Some of Cheryl's 'StylistPick' shoes are up on Social Discount Network at an incredible price of £34.99.
Take your pick from 7 styles.
Price for each is £34.99 plus £6.95 for delivery. Only UK delivery only.
As seen in Marie Claire, Glamour & The Telegraph! Stunning high quality not only designed by her but also worn by her & other celebs on the red carpet! Be the envy of all your friends!

This is a ONE OFF DEAL!!!! You cannot buy these at this price anywhere in the UK! LIMITED STOCK in each Style /Size! ( First come first served!!!!)
http://www.socialdiscountnetwork.co.uk/cheryl-cole-shoe-spectacular-sale.html
Nov,28 2012
StylistPick.com have released a new boot designed by Cheryl for her capsule collection.
Cheryl says:
'These are my perfect everyday boots. When my feet need a rest from heels, I'll put these on'
The boots are priced at £79.90 and come in black only.
Shop the boot: http://bit.ly/Ve6QSz
Jun,27 2012
If you don't own a pair, now is the time to get them before its too late!
Some of Cheryl's shoes on StylistPick.com are now on sale.
12 pairs from her collection are now half price!
From the gorgeous 'Your Royal Hotness' heels to the summery 'Fizz Bomb' wedges which will you go for?
http://www.stylistpick.com/cheryl-cole
http://www.stylistpick.com/cheryl-cole
http://www.stylistpick.com/cheryl-cole
May,15 2012
Check out the latest additions to Cheryl's Spring/Summer 2012 shoe collection with StylistPick.com
Lemon Bon Bon
http://www.stylistpick.com/products/lemon-bon-bon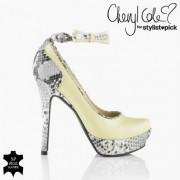 Cheryl says…
'Summer in shoe form… ticks all my S/S trend boxes!'

Dip Dab
http://www.stylistpick.com/products/dip-dab
Cheryl says…
'This elegant court has a classic shape, but with some edgy touches – love the navy detailing'
Apr,06 2012
Easter is the time to indulge in all things sweet, but instead of chocolate, why not feast your eyes on Candy Sticks, Fizz Balls, Humbugs and Mojos.
The good thing is, these are totally calorie-free!
The 'sweets' im talking out is of course the gorgeous new Spring/Summer 2012 collection by Cheryl Cole. Each shoe is named after Cheryl's favourite candy – although we're upset 'Curly Wurly's' are not on the list!
http://www.stylistpick.com/shop-cheryl-cole
Apr,03 2012
You can now preview 3 shoes from Cheryl's new Spring/Summer StylistPick.com collection, which will be available to buy tomorrow, 4th April.
http://www.stylistpick.com/vip-cheryl-preview
Check out the new photoshoot below to see Cheryl wearing the shoes, all named after candy sweets!
http://www.stylistpick.com/candy-sticks
http://www.stylistpick.com/flying-saucers
http://www.stylistpick.com/fizz-balls
Which ones have you got your eye on?! tell us on Twitter @GirlsAloudMedia
Mar,30 2012
Cheryl will release a new Spring/Summer shoe collection on StylistPick.com on the 5th April.
In January, she tweeted a sneak peek at one style of shoe that will be a part of it.
Her first collection is currently on special offer at 40% off, so if you want to grab a bargain, head over to http://www.stylistpick.com/cheryl-cole
Feb,26 2012
On Friday, Cheryl visited the StylistPick pop-up shop in WestField, White City centre in London to meet and greet her fans.
Many of you camped out over night to make sure you got to see her.
From what i have heard, the wait was well worth it. During the day, L'Oreal Paris touched up makeup on all the girls waiting. Cheryl then arrived and waved to the crowds. She spent a few minutes on everyone, making sure they got a photo, an autograph and a Cheryl hug for most of you!
At the end of the meet, fans recieved a goodie bag containing L'oreal products, a stylistpick.com voucher and a unique bracelet!
Cheryl signed for 200 fans, and the meet was supposed to be 2 hrs but we hear she stayed for over 5 hrs making sure everyone had been seen.
See the pictures of the event [HERE] and [HERE]