Nov,22 2013
The designer who custom made the dresses for the Girls performance on Strictly Come Dancing last year, shared a picture of one of the dresses before it made its TV debut!


The beginning before it made the limelight. The dress for the girls @GirlsAloudMedia @GirlsAloud @bbcstrictly pic.twitter.com/oy2f9dPduG

— Alida Herbst (@alida_herbst) November 22, 2013
You can follow the designer on Twitter @alida_herbst


Jan,01 2013
Girls Aloud performed 'Something New' on the New Years Eve edition of Top of the Pops last night.
The girls wore white tulip-style dresses, as like the ones in the official music video.
Watch the performance above on Youtube above or download the HQ on the forum [HERE]
HQ picture of their performance is [HERE]
Nov,26 2012
Well done Girls Aloud!
Raising money for Children in Need, 'Something New' sold over 70,000 copies to reach its #2 chart position in its first week. They were pipped to the top spot by Olly Murs.
The Official @GirlsAloud twitter posted a message from all the girls:
Thank you for all your support with Something New. We are so happy that we have been able to support Children In Need

— Girls Aloud(@GirlsAloud) November 25, 2012
And raise a lot of money for such a good cause. SH,NR,KW,NC,CC x

— Girls Aloud(@GirlsAloud) November 25, 2012
Nicola simply tweeted "Olly goes hard" so no bad feelings then!
The second single will be Beautiful Cause You Love Me.
Nov,19 2012
Girls Aloud – Something New [Strictly Come Dancing] 2012
Girls Aloud performed on Strictly Come Dancing results show on Sunday evening.
Dressed in short, silver dresses the girls gave a brilliant performance for their charity single 'Something New'
Watch again above or if you prefer, download the HQ [HERE] thanks to Snoop!
See pictures below:
Keep supporting the Girls and CIN by downloading your copies of their new single NOW!
Nov,18 2012
Something New is officially out today!
Why not do your bit for Children in Need and buy the single.
"Where can i buy the single?" i hear you saying!
You have quite a choice of links so buy from at least one although im sure you can dig deeper for a charity single, and buy some for family & friends too!
iTunes | HMV | Amazon | Play | CD | Vinyl
And thanks to the Official Girls Aloud Facebook page, we have something new, a brand new photoshoot picture!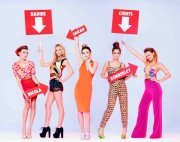 Nov,17 2012
Last night, Girls Aloud performed live for the first time since reuniting.
They first sang their single (official Children in Need song) 'Something New' and wore the orange dresses as seen in the official video:
Half an hour later, they came back onto our screens to perform the new track called 'Beautiful Cause You Love Me' wearing stunning gowns.
Girls Aloud – Beautiful Cause You Love Me [Children in Need 2012]

After the second performance the girls spoke to Tess and Terry about their career, Strictly and the total so far.
Check out pictures of the performance below, and the HQ downloads of the videos on the forum.

More pictures [HERE]
Download Something New – Children In Need
Download Beautiful Cause You Love Me – Children In Need
Nov,16 2012
Don't miss the new video of the Girls on set of the music video for Something New.
Lovely to see them all excited about being back together!
Download Something New on iTunes: http://smarturl.it/NewiTunes
Nov,15 2012
The Girls have been busy in rehearsals this week, to prepare for upcoming performances for Children in Need (Friday) and Wembley for Strictly Come Dancing (Saturday, airing on TV Sunday).
The official Twitter account @GirlsAloud have been teasing us all week but not given anything away about the performances or outfits.
But Nicola did use it today, to tweet a picture of busy Kimberley rehearsing her Samba dance for Saturday's Strictly show, live at Wembley Arena.
Every second counts #SCD NR x twitter.com/GirlsAloud/sta…

— Girls Aloud(@GirlsAloud) November 15, 2012
Keep rehearsing girls, and as Nicola has just tweeted, just one more sleep to the first performance of 'Something New' which will be live on BBC1 around 9pm!