Jan,29 2014
.
On Monday evening, Sarah tweeted a cryptic message, and to keep our eyes and ears open

nite gorgeous peeps…important tings goin down tomorrow luv y'all loads!!! Keep ur ears n eyes open!!! Not long now!!! Love u all

— Sarah Harding (@SarahNHarding) January 28, 2014
Her solo PR rep @iedmondson confirmed on Tuesday that she was in the studio. It's unclear whether she was finishing the last touches to her solo album or still recording it.
Today she shared a picture of her team on instagram
Looking forward to hearing the finished product!
Aug,08 2013
DJ Fresh has revealed that he was "gutted" that his song with Girls Aloud 'On The Metro' wasn't released as a single.
The producer, who co-helmed the song with group member Nicola Roberts, admitted he was annoyed when he discovered it wouldn't be serviced as a single.
"I'm really gutted it didn't get released, it's so annoying," he told Digital Spy. "It's basically one of those things that's decided by people that sit in record label offices and determine what we're all going to hear on the radio every day.
"Who is it that gives these guys the power? They're not always right."
He added: "I'm not dissing anyone in particular with that track, but it's amazing that one or two people in a boardroom determine what's going to be released and what isn't."
Asked if he would work on any of the Girls Aloud members' solo projects, he said: "I'd love to work with any of the Girls Aloud girls solo. I didn't meet Nadine, but I'd love to as the others were all really sweet.
"For me, Nicola felt like the most driving force from a writing point of view, so doing something with her would be great."
'On The Metro' featured on Girls Aloud's greatest hits album Ten. Meanwhile DJ Fresh releases his new single 'Earthquake' on August 18.
Source: DigitalSpy
Jan,07 2013
Kimberley Walsh has released her brand new solo single 'One Day I'll Fly Away' this week!
You can purchase from the following places:
'One Day I'll Fly Away' was the first song to be recorded for Kimberley's debut solo album, Centre Stage.
The song is currently #1 on the iTunes Vocal chart.
The music video, which was filmed in one day at Pinewood Studios, is currently not available, but you can view some behind the scenes shots from the video shoot below.
Dec,05 2012
The official music video for Beautiful Cause You Love Me premiered at midnight, watch it in full above.
Nov,18 2012
Something New is officially out today!
Why not do your bit for Children in Need and buy the single.
"Where can i buy the single?" i hear you saying!
You have quite a choice of links so buy from at least one although im sure you can dig deeper for a charity single, and buy some for family & friends too!
iTunes | HMV | Amazon | Play | CD | Vinyl
And thanks to the Official Girls Aloud Facebook page, we have something new, a brand new photoshoot picture!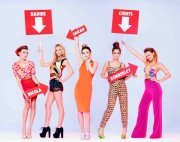 Nov,13 2012
Just premiered on Radio 2, listen to this brand new Girls Aloud track above.
Wow!
Nov,09 2012
Little Mix have premiered a new track called Going Nowhere which features them beatboxing and rapping!
Taken from their debut album, the track was co-written by Iain James, Fred Ball and Nicola Roberts.
It's about the realisation that a relationship is going nowhere as the boyfriend isn't making an effort anymore.
They hit the chorus with the lyrics: 'Leave, you're not the boy you said you'd be. And it's so hard for me to breath.
'How can I love you boy if you're going nowhere? We're going nowhere.'
Oct,29 2012
Official GirlsAloudVEVO have let fans listen to one of the 'Something New' single remixes.
The remix is 1 of many that are avaliable to pre-order now for its release on November 18th.
Tracklistings and pre-order links are as follows:
Pre-order from iTunes: http://smarturl.it/NewiTunes
1. Something New
2. Something New (Jim Eliot Remix)
3. Something New (The Alias Radio Edit)
4. Something New (Manhattan Clique Remix)
5. Girls Aloud Megamix
Pre-order the CD: http://smarturl.it/NewCD
1. Something New
2. Something New (Jim Eliot Remix)
3. Something New (The Alias Radio Edit)
4. Something New (Fred Falke Remix)
Pre-order the 7″ Vinyl: http://smarturl.it/New7
1. Something New
2. Something New (Seamus Haji Remix)