Oct,24 2012
POST WRITTEN BY:
Hayley [Admin]
at
21:18pm
| Filled under:
Girls Aloud
Having so much fun putting together our TV performances. There will be Something old , something new and our 2nd single !!!

— Girls Aloud(@GirlsAloud) October 24, 2012
Look what the @GirlsAloud Official Twitter account tweeted earlier today! YAY!


Oct,15 2012
GIRLS ALOUD WANT YOU!
Girls Aloud have something they want to say this Friday, and also want you to be a part of the action.
Fill in this form:
http://www.girlsaloud.com/form/
http://www.girlsaloud.com/form/
http://www.girlsaloud.com/form/
And cross your fingers!
Judging by the questions they are asking, it looks like the live announcement will involved fans live reactions via their webcams.
If you are going to give it a go, good luck and remember us when your famous
Oct,15 2012
The pale and interesting Girls Alouder and style icon talks to Celebs On Sunday about finding her fashion groove, and getting the band back together (scream)…
We've long been members of Team Ginge. Because Nicola Roberts is a bit different from your average, formulaic pop star. Not intimidatingly beautiful, thus not sent to make us feel cacky about ourselves, she's paler than a white-washed wall and proud of it.
Plus, since Girls Aloud went on their sabbatical, she's made cool-as-owt solo music to please herself and not the charts (they all say that, but in Nicola's case it's true).
And now, she's a judge on our fave fashion show Styled To Rock, in which a bunch of young upstarts compete to design an outfit for Rihanna to wear on stage, the final of which airs this week.
We're sat in a pub in London's Primrose Hill waiting for Nicola's entrance, and we're expecting big things. The Girls Alouder is a fully fledged fashionista these days, muse for her Styled To Rock judging mate, Henry Holland, and a regular on the front row at London Fashion Week.
But instead of some edgy, high-end appearance, we're pleased to report the 27-year-old looks, well, refreshingly regular.
Nicola protests when we describe her as a style icon, although this is her being modest (but who would go, 'Yes, I am in fact the most fashionable, best-dressed person in all the land', to be fair?) and tells us she is in actual fact clad in head-to-toe stuff we could buy in the Arndale Centre – Asos jumper, jeans and boots from Topshop.
'So I'm super high street today,' she says, although she is wearing mahoosive rock star shades, so dark she almost sits on a non-existent bench she thinks she's seen). 'Oh, but my bag is Mulberry,' she mutters.
We're here to talk about the show, but there's something else we want to know more. Which is when the blazes are the Best Girl Band In The World Ever getting back together?
'Argh, I just want to say everything and I can't…OK, um, what can I say? It's sooner than you think,' she says. 'I can't say anything else, but we are all super excited, and it's gonna be good.'
The rumour mill suggests it will be early next year, so 'sooner than we think' sounds like later this year…
Our theory is they'll do it to mark 10 years of fame, to coincide with the time they won their places in the band on Popstars: The Rivals. Nicola was the baby of the competition, barely out of school uniform and living in Runcorn, with no money.
View all content of this post »
Oct,10 2012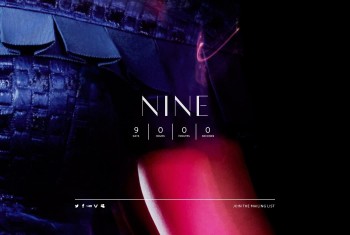 NINE girlsaloud.com #GirlsAloud

— Girls Aloud(@GirlsAloud) October 10, 2012
The countdown to the big Girls Aloud announcement continues! Official Girls Aloud released another arty cropped picture along with the words 'NINE'.
In other releated Girls Aloud news, a quote thats found at the back of Cheryl's book worried fans online yesterday
Then I think that's it for Girls Aloud. We've achieved far more than any of us ever dared to dream of and, whatever happens next, I know we'll always be in each other's lives.
Nadine took to her Twitter page to reassure fans and fangirl over GA herself!
Wow wow wow! Farewells? Tears? What? No way this is a happy day! Xx

— Nadine Coyle (@NadineCoyleNow) October 9, 2012
I never ever ever want @girlsaloud to break up! Ever! Xxx ever!

— Nadine Coyle (@NadineCoyleNow) October 9, 2012
Oct,03 2012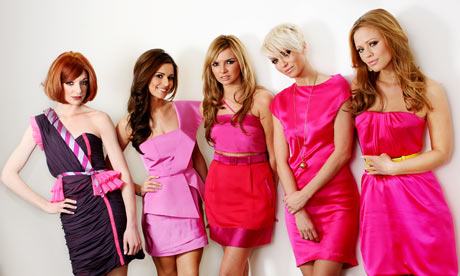 Girls Aloud will reportedly release a brand new single next month.
The girl group – who are celebrating their 10th anniversary this year – are said to have reunited to film a video for the comeback track on Tuesday (October 2), according to The Mirror.
"The girls recorded tracks with their long-time collaborators Xenomania as early as May this year," a source claimed.
"Some of them recorded their vocals separately, so they didn't actually see each other that much during the process. Obviously, Nadine [Coyle] has been pretty estranged from the group during their time off, too.
"But on Tuesday, all five were together to film the video for their big return song, which is due out next month.
"It was the last possible opportunity they would all have to get together in time for the release, as Cheryl [Cole] has been busy rehearsing for her tour and Kimberley [Walsh]'s training schedule for Strictly has been getting more and more intense."
Nicola Roberts recently stated that Girls Aloud would be marking their 10th anniversary in some form in November.
Cheryl Cole has also hinted at possible new Girls Aloud lyrics, stating "I just wanna dance" during an interview in August.
Source - DigitalSpy
Sep,18 2012
Kimberley Walsh has (near enough) confirmed that the Girls Aloud reunion will still go ahead.
Cheryl Cole's pal insisted that her place on Strictly Come Dancing 2012 won't interrupt with plans for a reunion with her band.
When asked how she will have time for it with the pressure of Strictly, Kimberley Walsh explained to OK!: "I will just have to work really hard.
"Being on Strictly won't hold anything up that we already had planned."
Before admitting 'there might' be a reunion before Christmas.
Kimberley mentioned that it was her Girls Aloud pals Chezza and Nicola Roberts who convinced her to do the show.
She said: "I spoke to the girls about it actually, and Cheryl and Nicola were like: 'You should definitely do that, you'll be in your element'."
And we might even be lucky enough to spot the girls in the front row, as Kimberley told us: "Yes, they said they're going to come down to watch me, so that'll be good.
"They'll give me a bit of support."
Source – OK Mag
Apr,07 2012
GETTING all of Girls Aloud in the same room is more challenging than the dance routine to their hit Biology.
But yesterday afternoon in a London hotel, the girlband reunited with estranged member Nadine Coyle.
The top-secret meeting was planned to thrash out details of the hugely anticipated Girls Aloud comeback tour.
Plus, it was to give the other girls — Cheryl Cole, Kimberley Walsh, Sarah Harding and Nicola Roberts — the opportunity to iron out any problems with Nadine, who has been cut off from the rest of the group since they last performed together in 2009.
A source said: "The girls have been trying to organise a meeting for months but have been so busy with solo projects.
"They were really excited to see each other — even though Cheryl, Nicola and Kimberley meet up regularly.
"They haven't seen much of Sarah recently following her stint in rehab and Nadine has been out of the picture living in LA.
"Nadine was eager to speak to the girls face-to-face to ensure there is no bad blood."
Since the band supported Jay-Z at Wembley, they have been concentrating on solo projects — with varying degrees of success.
The band celebrate their tenth anniversary at the end of this year and hoped to mark the milestone by going back on tour in early 2013 — and possibly bring out new material.
They could bag millions with an arena tour.
And following high-profile break-ups, single members Cheryl, Sarah and Nadine won't have any distractions on the bloke front.
They could even go on the pull together. It would be just like the old days.
Mar,13 2012
Girls Aloud are discussing plans for a new album, according to Kimberley Walsh.
The band were known to be reuniting for a tour in 2013 to mark their ten-year anniversary, but it was previously unclear if they planned to release new material.
"Me and the girls are chatting about ideas right now. It's not definitely just a one-off single. That's what we are talking about at the minute," Walsh told the Daily Star Sunday.
"We will have to see what happens but I'm certainly not ruling out a studio album just yet. It will be the Girls Aloud sound but moving forward with a twist."
She added: "I'm really, really excited about the Sugababes reforming. It will be really good if we are both releasing at the same time because that's how we started. We had a healthy rivalry and it will make us both raise our games."
Sources have also now suggested that the reason behind the Girls Aloud comeback being delayed until 2013 was to allow enough time to record an album.