Aug,27 2014
The X Factor press launch hit London this evening, and Cheryl arrived in a black and white dress with her hair in a chic pony tail. The judges (minus Mel B) were in attendance to launch the first episode to the press, before it airs on TV this Saturday.
Check out the video below on what Cheryl had to say about the new series, seems like little has changed since she has been away.
and photos from the launch can be seen on the forum.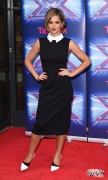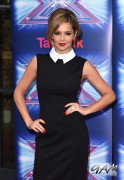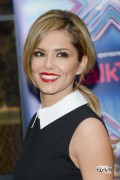 Follow us on
Twitter
for updates
Aug,24 2014
Week 3 of Tumble, sees Sarah do a chinese-inspired performance on the trampolines.
In her VT we saw her stress a lot about her back flip, but on the night she nailed it! A few harsh comments from the judges this week, but she got 26.5 points and is through to week 4.
If you missed it, give it a watch above! Thanks to Will for ripping this for GAM, watch above for Sarah's parts.
Aug,22 2014
On Thursday, Nadine headed to the London Palladium, for the press launch of Lord of the Dance: Dangerous Games, which she is taking part in.
She was introduced by Michael Flatley as his 'secret weapon' and looking gorgeous in red as she nestled in among the show's cast of talented young dancers on the Palladium stage.
'I've been a fan of Michael's and of Lord of the Dance since I first saw it,' she said, 'so that's the last twenty years I've been watching everything Michael has done and it just gets better every time. When we first met and Michael asked me to be part of the show, I couldn't believe it. I was on Cloud 9 – still am. To be here in the London Palladium singing Gerard's songs, to be with such an amazing cast and crew I'm just so delighted and just can't thank you enough Michael for the opportunity.'
Check out the pictures from this event on NadineCoyleFan.com, my other site!
Appearances & Events > 2014 > 21st August – Lord of the Dance: Dangerous Games Press Launch

Jun,22 2014
I noticed quite a lot of you attended the Summertime Ball yesterday held at Wembley Stadium. In fact there were over 80,000 people in attendance!
Cheryl was of course there, to perform 3 songs.
She started off with her first solo hit 'Fight For This Love' followed by her new single 'Crazy Stupid Love' and finally 'Call My Name'
For those unfortunate to get a ticket, her videos are now up on Capital's website:
And the pictures are in the usual place on the forum:
Arrivals http://www.girlsaloudmedia.com/smf/index.php?topic=46977.0
Performance http://www.girlsaloudmedia.com/smf/index.php?topic=46980.0
May,01 2014
Apr,08 2014
More Pictures http://www.girlsaloudmedia.com/smf/index.php?topic=46824.0
To showcase her 'extreme dip-dye', Cheryl is seen in a edgier light for L'Oréal's new music-led film.
As the spokesmodel of the L'Oréal Paris Feria Go Extreme campaign, Cheryl Cole is appearing in her first music-led film for the brand, 'Go Louder'.
Airing on for the first time on the 21st April, it sees Cheryl with her new rooted dip-dye 'do in a dance-off between her new loud hair colour and the volume of track Pretty Girl by Stockholm Syndrome. See what they've done there?
As you can tell from these behind-the-scenes snaps – the work of legendary fashion photographer Rankin for L'Oréal Paris Féria Go Extreme – it shows the star in an edgier light. Her all-black sports luxe look, tough accessories and powerful postures make for a fierce effect.
But we're expecting some smiles. "The thing I love about being a blonde is that you feel that you can have more fun" Cheryl said, "there's that famous quote, 'blondes have more fun' and I think they do!"
Cheryl's hair was styled by Wendy lLes using L'Oréal Paris Elnett, her makeup was courtesy of famed artist Val Garland using L'Oréal Paris True Match foundation and her statement nails were by Marge Christodoulou using L'Oréal Paris Color Riche. What a dream team!
Cheryl is the Spokesmodel for L'Oréal Paris Féria Go Extreme collection, available in three shades from boots.com, £6.99
The advert is set to air on April 21st.
Apr,01 2014
Feb,25 2014
Cheryl rocked it up to Milan Fashion Week over the weekend to sit front row at Roberto Cavalli's show.
The gorgeous Geordie, stole the show at the jetted into the Italian fashion capital for the designer's Autumn / Winter 2014 runway presentation.
Sharing a snap on her Instagram page, Cheryl looked every inch the glamour puss in a leopard and zebra print Cavalli trench coat. She styled her look with a pair of patent, pointed monochrome pumps and triangular drop earrings. Her newly-ombred locks were put in a slick, low-neck ponytail with a fashion-forward centre parting.
She was spotted on the 'FROW' with Ellie Goulding and Les Miserables actress Samantha Barks.
All the pictures from the weekend can be found on the forum, via the links below:
► [HQ] Cheryl Cole arriving in Milan, Italy 21/02/14
► [HQ] Cheryl Cole arriving at Cavalli's Fashion Show, Milan 22/02/14
► [HQ] Cheryl Cole attends the Roberto Cavalli Fashion Show, Milan 22/02/14


► [HQ] Cheryl Cole leaving the Principe di Savoia Hotel in Milan 22/02/14