Sep,16 2014
More pictures http://www.girlsaloudmedia.com/smf/index.php?topic=47185.0
Kimberley is taking part in this year's Children in Need campaign, to get the nation baking.
The idea is to get viewers to choose a classic cake and make their own version for the annual fundraising drive.
Along with actress Kara Tointon and presenter Laura Whitmore, Kimberley and Denise are encouraging everyone to then show off their creations by holding a bake sale.
'It is fun, delicious and will go on to help change the lives of disadvantaged children and young people right here in the UK,' said Kimberley.
Looking every inch the domestic goddesses, the foursome slipped on floral frocks to promote the campaign, whilst showing off something they made earlier.
Children in Need is on November 14th.
To get involved, visit bbc.co.uk/Pudsey for your fundraising pack.
Sep,04 2014
N

owadays, even my religious mother-in-law would probably be comfortable giving another driver the finger", writes Irvine Welsh in the foreword to Rankin's new tome, the subtly titled F*ck Y*u. "It's like when American's say 'that sucks/you suck', they now (usually) no longer mean that you literally suck cocks, just that you, or it, simply isn't very good. The proffered finger is in a similar state of cultural metamorphosis. It's now often deployed semi-affectionately, with an ironic smile, usually in an acknowledgement that somebody has gotten one-up on you."

And it's exactly this tongue-in-cheek take on the age old insult that informs F*ck Y*u. Never one to take himself too seriously, and used to the odd insult, Rankin has been photographing celebrities giving him the finger for years. And it was a particular shot of supermodel Heidi Klum flipping the bird that inspired this book. And whether you know it or not, you're probably already pretty familiar with this shot. Ever been to Thailand, or any market in the world for that matter, that stocks brightly coloured printed t-shirts? Then you've definitely seen a topless Heidi giving the finger to Rankin's camera – though this was not where the shot was intended to end up. Originally printed in a book, then ripped-off by t-shirt manufacturers, Rankin's image has been reprinted thousands of times, if not millions, of times the world over.

But the middle finger photographs didn't stop there. On the advice of his French gallerist Arnaud Adida, Rankin delved into his archives to find similar shots, and started asking every famous face that came through his studios to flip him the bird. These images have been immortalised in F*ck Y*o and include the likes of Cheryl Cole, Katy Perry, Damien Hirst, Helena Christensen, The Rolling Stones and Robert Downey Jr, as well as that famous Heidi shot that planted the seed those years ago.

But it's not just a host of celebrities telling Rankin to f*ck off, British writer and broadcaster Jon Savage takes us through an age of expletives in his foreword, while Professor Paul Rixon explores its beginnings and iconic author Irvine Welsh sums up the finger in a way that only he could get away with. Never has so many people being so rude been more appealing.

F*ck Y*u is available exclusively at Urban Outfitters for the next six weeks, priced £25. Order the book here.
Aug,23 2014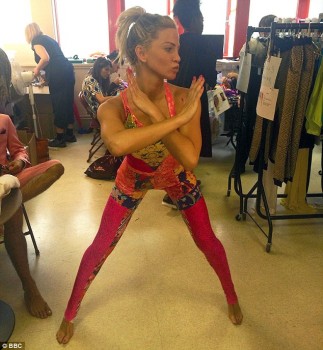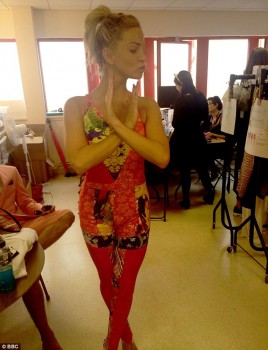 Like all the celebrity contestants preparing for this week's Tumble, Sarah Harding knows she has to up her game.
And it looks like the pressure has been getting to the ex-Girls Aloud singer as she broke down in tears during rehearsals this week.
Sarah and her partner, gymnastics coach Leon Fagbemi, have been preparing a Crouching Tiger, Hidden Dragon-inspired routine for their trampolining performance on Saturday's live show.
And while she is loving her eye-catching pink costume for the show, it looks like the actual moves from the routine is stressing her out.
Sarah and Leon have been rehearsing a Chinese-syle routine, with even a parasol being incorporated to a performance.
The singer is hoping to perform some kung-fu kicks and martial arts moves while flying through the air mid bounce.
An insiders told the MailOnline: 'Sarah is having lots of aches and pains and the nerves have been a challenge. She really wants to do well and not end up having to do vault.
'Everyone is hoping she won't come a cropper on live television.'
So far Sarah and Leon have received scores of 25.0 for the Aerial Hoop in Week 1 and 28.5 for the Floor in Week 2.
Sarah is among half the celebrity contestants who will be performing trampoline on Saturday, while the other half will be doing rhythmic floor routines with props.
…………
Check out this new promo shot of Sarah, thanks to @JamesBLW!
@SarahNHarding hope you like my shot of you from the #tumble promo film shoot, good luck #bbctumble. https://t.co/NUjZjHjyWn

— james w (@jamesblw) August 22, 2014
Aug,18 2014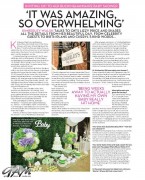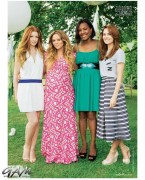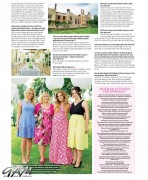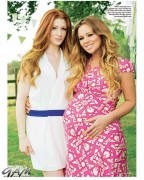 In last week's OK magazine (available in your local shops until tomorrow if you have not bought it yet!) Kimberley was featured with a gorgeous new photoshoot and interview for her baby shower. Nicola was in attendance.
If you missed it, you can view the rest of the scans on the forum [HERE]
Feb,20 2014
Enter the Sainsbury's Sport Relief Games NOW at http://bit.ly/1fbVvft
Kimberley get's physical and reproduces an iconic shot all in the name of Sport Relief!
Sport Relief brings the entire nation together to get active, have fun and raise life-changing cash, and it's back from Friday 21st to Sunday 23rd March.
This time we're holding the Sainsbury's Sport Relief Games, featuring the Mile, plus new Swimathon and Cycle events. It's never been easier to join in, do your bit and make a difference.
…………..
If you prefer, the HD download is on the forum [HERE]
Feb,20 2014
Kimberley Walsh worked up a sweat today, recreating shots from Olivia Newton-John's iconic video 'Physical' to showcase the launch of the official Sport Relief Headband, now available in Sainsbury's stores nationwide.
The ever stylish singer was given a full makeover to look like Olivia Newton-John from the 1981 hit music video, even transforming her typically luscious locks into a retro mullet. Kimberley got into the Sport Relief spirit by donning a pair of sporty red leggings and bright pink 80s style legwarmers as well as donning this year's must-have fashion accessory – the Headband!
"Everyone loves this iconic still from the Let's Get Physical video, with Olivia Newton-John looking ultra-cool in her headband and workout gear. Amazingly the track was in the charts when I was born, 32 years ago, so it totally made sense to get involved in this revival shoot to launch this year's official Sport Relief Headband. I urge everyone to join in the fun by getting the gear and registering at sportrelief.com."
Headbands, T-Shirts and All-In-Ones are available now with a donation from each sale going directly to help transform the lives of some of the poorest and most disadvantaged people in the UK and around the world.
With hundreds of events being organised for this year's Sport Relief, it's never been easier to join the fundraising fun and games. You can run, swim or cycle at venues right across the UK as part of the Sainsbury's Sport Relief Games which takes place from Friday 21st to 23rd March.
Join in the fun and games by registering today
Buy your headband from Sainsbury's stores nationwide or on the official website.
Click for HQ photo
Feb,06 2014
Yet even more items have been added to Kimberley's clothing range on Very.co.uk
A halter neck dress and shrug, pleated shorts, sleeveless shirt and the tuxedo jacket and trousers in blue are now available to order.
Shop here:

http://www.very.co.uk/e/q/kimberley.end
The new photoshoot of the items being modelled by Kimberley herself are on the forum:
http://www.girlsaloudmedia.com/smf/index.php?topic=46610.0
Oct,15 2013
This week, Cheryl and Nadine feature in Hello magazine.
Whilst the Cheryl feature is just a report it does contain a lovely calendar shot.
The Nadine feature is a brand new interview and photoshoot with Jason, talking all things babies.
Check out the digital scans on the forum [HERE]