Aug,23 2014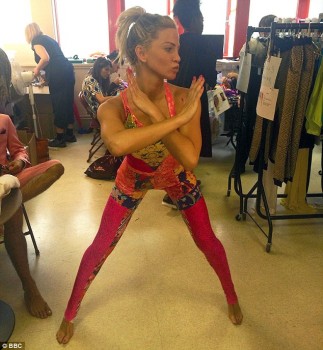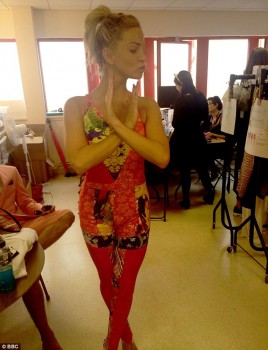 Like all the celebrity contestants preparing for this week's Tumble, Sarah Harding knows she has to up her game.
And it looks like the pressure has been getting to the ex-Girls Aloud singer as she broke down in tears during rehearsals this week.
Sarah and her partner, gymnastics coach Leon Fagbemi, have been preparing a Crouching Tiger, Hidden Dragon-inspired routine for their trampolining performance on Saturday's live show.
And while she is loving her eye-catching pink costume for the show, it looks like the actual moves from the routine is stressing her out.
Sarah and Leon have been rehearsing a Chinese-syle routine, with even a parasol being incorporated to a performance.
The singer is hoping to perform some kung-fu kicks and martial arts moves while flying through the air mid bounce.
An insiders told the MailOnline: 'Sarah is having lots of aches and pains and the nerves have been a challenge. She really wants to do well and not end up having to do vault.
'Everyone is hoping she won't come a cropper on live television.'
So far Sarah and Leon have received scores of 25.0 for the Aerial Hoop in Week 1 and 28.5 for the Floor in Week 2.
Sarah is among half the celebrity contestants who will be performing trampoline on Saturday, while the other half will be doing rhythmic floor routines with props.
…………
Check out this new promo shot of Sarah, thanks to @JamesBLW!
@SarahNHarding hope you like my shot of you from the #tumble promo film shoot, good luck #bbctumble. https://t.co/NUjZjHjyWn

— james w (@jamesblw) August 22, 2014
Aug,18 2014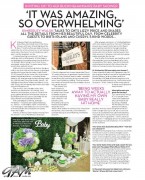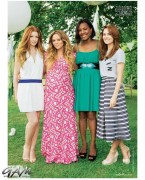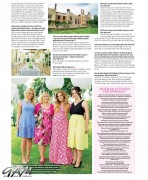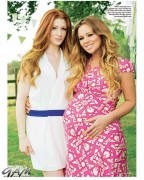 In last week's OK magazine (available in your local shops until tomorrow if you have not bought it yet!) Kimberley was featured with a gorgeous new photoshoot and interview for her baby shower. Nicola was in attendance.
If you missed it, you can view the rest of the scans on the forum [HERE]
Feb,20 2014
Enter the Sainsbury's Sport Relief Games NOW at http://bit.ly/1fbVvft
Kimberley get's physical and reproduces an iconic shot all in the name of Sport Relief!
Sport Relief brings the entire nation together to get active, have fun and raise life-changing cash, and it's back from Friday 21st to Sunday 23rd March.
This time we're holding the Sainsbury's Sport Relief Games, featuring the Mile, plus new Swimathon and Cycle events. It's never been easier to join in, do your bit and make a difference.
…………..
If you prefer, the HD download is on the forum [HERE]
Feb,20 2014
Kimberley Walsh worked up a sweat today, recreating shots from Olivia Newton-John's iconic video 'Physical' to showcase the launch of the official Sport Relief Headband, now available in Sainsbury's stores nationwide.
The ever stylish singer was given a full makeover to look like Olivia Newton-John from the 1981 hit music video, even transforming her typically luscious locks into a retro mullet. Kimberley got into the Sport Relief spirit by donning a pair of sporty red leggings and bright pink 80s style legwarmers as well as donning this year's must-have fashion accessory – the Headband!
"Everyone loves this iconic still from the Let's Get Physical video, with Olivia Newton-John looking ultra-cool in her headband and workout gear. Amazingly the track was in the charts when I was born, 32 years ago, so it totally made sense to get involved in this revival shoot to launch this year's official Sport Relief Headband. I urge everyone to join in the fun by getting the gear and registering at sportrelief.com."
Headbands, T-Shirts and All-In-Ones are available now with a donation from each sale going directly to help transform the lives of some of the poorest and most disadvantaged people in the UK and around the world.
With hundreds of events being organised for this year's Sport Relief, it's never been easier to join the fundraising fun and games. You can run, swim or cycle at venues right across the UK as part of the Sainsbury's Sport Relief Games which takes place from Friday 21st to 23rd March.
Join in the fun and games by registering today
Buy your headband from Sainsbury's stores nationwide or on the official website.
Click for HQ photo
Feb,06 2014
Yet even more items have been added to Kimberley's clothing range on Very.co.uk
A halter neck dress and shrug, pleated shorts, sleeveless shirt and the tuxedo jacket and trousers in blue are now available to order.
Shop here:

http://www.very.co.uk/e/q/kimberley.end
The new photoshoot of the items being modelled by Kimberley herself are on the forum:
http://www.girlsaloudmedia.com/smf/index.php?topic=46610.0
Oct,15 2013
This week, Cheryl and Nadine feature in Hello magazine.
Whilst the Cheryl feature is just a report it does contain a lovely calendar shot.
The Nadine feature is a brand new interview and photoshoot with Jason, talking all things babies.
Check out the digital scans on the forum [HERE]
Oct,14 2013
Nadine Coyle and boyfriend Jason Bell invite you into their home for an exclusive HELLO! photo shoot to celebrate their baby news. Issue on sale Monday 14 October
Oct,14 2013
In a world exclusive interview and photoshoot with HELLO! magazine Girls Aloud star Nadine Coyle is thrilled to share the news that her former fiancé Jason Bell is the father of her child.
In their first photoshoot together, the five-month pregnant singer reveals her 'surprise' at being the first of the girlband to have a baby.
Denying there was any mystery about Jason being the baby's father, Derry born Nadine says: "I think we just forgot to tell everyone we were together.
"When I said I was pregnant I thought, 'Why's everyone wondering who it is? Then I remembered, 'Oh yes, that's right. I do stuff on TV and people are confused. So this clears it up!"
In her first indepth chat since Girls Aloud split up after a decade, Nadine gave hope to fans by revealing how she still believed the girls would reunite one day.
"I didn't want it to end – but the sequins, the wings and a bump wouldn't have been a good look!
"
I loved the reunion and hopefully one day we will get back together to do something else."
Talking about her bandmates, she added: "I think I was the least likely to be the first to have a baby, it would always come up. A couple of the other girls had wanted babies for a long time but I said no way… It was definitely a shock, but I was really, really happy."
"I've never felt excitement like this in my whole life. Knowing we're having a baby takes it to another level," says ex American Footballer Jason.
In the exclusive interview in this week's magazine Nadine reveals all about her relationship, her pregnancy cravings, how the couple keep their long-distance relationship alive and plans to bring up their baby.
Read the full interview in HELLO! out now.
Source – Hello