Jun,18 2014
X Factor judge, Cheryl Cole, wears DSquared2 and Philosophy on the cover of the August issue of ELLE UK, on sale July 3, and gives a raw, uncensored interview about betrayals by both friends and lovers, being brought to the brink of breakdown, the bucket list she made at her lowest ebb, and her thoughts around having children. This is Cheryl, reinvented.
In the interview, to be officially released on July 3, she gives ELLE UK the exact wording of the text she sent one Mr Simon Cowell when she was dismissed from the US X-Factor, and talks about what prompted her return to the UK show. She wears Gucci, Louis Vuitton, Burberry, Miu Miu and Christopher Kane in the shoot by Ben Morris, and also stars in a playful Q&A film session
Fans can pre-order the August issue of ELLE UK, on sale July 3, to ensure they get the issue featuring her most surprising shoot and interview delivered straight to their doors. www.hearstmagazines.co.uk/elle/JES10073.
Also this month, sees ELLE UK's incredible, 30 page new-season fashion shoot starring Irina Kulikova and Zen, plus what you should buy on the high street before it's gone from the rails. Kesha opens up about her recent rehab treatment in a moving memoir, and one ELLE UK writer describes the self-doubt that sets in when your partner has the perfect body. Plus, ELLE shows you four wearable hair and make-up looks for any summer occasion.
ELLE UK'S AUGUST ISSUE ON SALE JULY 3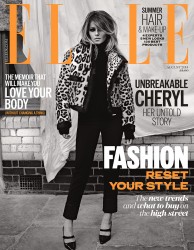 Oct,14 2013
In a world exclusive interview and photoshoot with HELLO! magazine Girls Aloud star Nadine Coyle is thrilled to share the news that her former fiancé Jason Bell is the father of her child.
In their first photoshoot together, the five-month pregnant singer reveals her 'surprise' at being the first of the girlband to have a baby.
Denying there was any mystery about Jason being the baby's father, Derry born Nadine says: "I think we just forgot to tell everyone we were together.
"When I said I was pregnant I thought, 'Why's everyone wondering who it is? Then I remembered, 'Oh yes, that's right. I do stuff on TV and people are confused. So this clears it up!"
In her first indepth chat since Girls Aloud split up after a decade, Nadine gave hope to fans by revealing how she still believed the girls would reunite one day.
"I didn't want it to end – but the sequins, the wings and a bump wouldn't have been a good look!
"
I loved the reunion and hopefully one day we will get back together to do something else."
Talking about her bandmates, she added: "I think I was the least likely to be the first to have a baby, it would always come up. A couple of the other girls had wanted babies for a long time but I said no way… It was definitely a shock, but I was really, really happy."
"I've never felt excitement like this in my whole life. Knowing we're having a baby takes it to another level," says ex American Footballer Jason.
In the exclusive interview in this week's magazine Nadine reveals all about her relationship, her pregnancy cravings, how the couple keep their long-distance relationship alive and plans to bring up their baby.
Read the full interview in HELLO! out now.
Source – Hello
Jun,03 2013
Cheryl Cole strikes a pose for InStyle's July issue, revealing her thoughts on X Factor, Simon Cowell and the big 3-0.
Showing off her super toned figure in a wicker bustier dress by Dolce & Gabbana, the singer told InStyle: "The last X Factor series I did was too hard for me. I wasn't right in my mind enough to give it my everything and be focused. And I wasn't strong enough mentally."
And when asked whether Simon Cowell asked her to come back to boost flagging X Factor ratings, she responded: "I've seen Simon since. Like, we're friends again. But, I don't talk about flagging things to him. He'd have a meltdown."
Nailing every look from Prada to Louis Vuitton, Cheryl spoke candidly about turning 30, explaining: "When I look at the 21 year old me, I do not want to be that person. I was young and naïve. I'm a hell of a lot wiser, a hell of a lot stronger, I'm just happier with me now. It's weird but I'm not scared of it."
See even more stunning looks from the shoot and find out what Cheryl has to say about love, Girls Aloud and what she's planning next, only in the July issue of InStyle – out Thursday!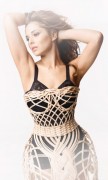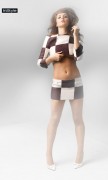 Jun,03 2013
Next weekend sees the launch of new glossy magazine Notebook from the Sunday Mirror.
The new title will have a strong emphasis on fashion and beauty, covering the latest health and beauty tips, film and celebrity stories, fashion and interior ideas, with Cheryl Cole gracing its first cover.
The first issue will be published on 9th June, free with The Sunday Mirror. It replaces the 'Celebs on Sunday' magazine.
Follow the twitter @notebook_live
Apr,19 2013
Cover shoot ready @cherylcole instagram.com/p/YSYKsTNpyv/

— Supersonic PR (@supersonicpr) April 19, 2013
Apr,16 2013
It's the lovely @cherylcole! Stay tuned to graziadaily.co.uk for our exclusive interview with the pop beauty. twitter.com/Grazia_Live/st…

— Grazia_Live (@Grazia_Live) April 15, 2013
Cheryl will appear in an upcoming issue of Grazia magazine.
Interviewer @Jessie_Vee was the lucky girl to do the honours in asking the questions. She tweeted a sneak peek of what we can expect to read.
Chezza fans, she's just as magical as you'd promised. I'm sworn to ABSOLUTE secrecy but will let you know as soon as the interview is up.
She talked red carpet disasters, the music she's loving and happy memories with Girls Aloud.
Jan,17 2013
Kimberley Walsh will feature in this weekends Fabulous magazine.
Nimble Kimble shows off her post-Strictly body and talks about the Girls Aloud reunion, solo album plans, and how her friends have kept her grounded.
See more pictures and read the interview only in Fabulous, free inside The Sun on Sunday.
Jan,14 2013
POST WRITTEN BY:
Hayley [Admin]
at
16:42pm
| Filled under:
Cheryl Cole
For the months of January and February, Cheryl will be gracing the cover and featuring inside Superdrug's free magazine called 'DARE'.
You can pick up your copy from any Superdrug nationwide.
Or if your feeling a bit lazy, head over to their website to see it online – or you can download the handy app to your smart phone.
http://dare.superdrug.com/janfeb2013