Jun,19 2014
If you missed it last night, watch Kimberley and Justin on All Star Mr & Mrs. Video thanks to jpptubie on Youtube.
They managed to raise £5,000 for Breast Cancer Haven and CMV Action.
Pictures are on the forum [HERE]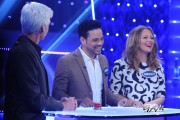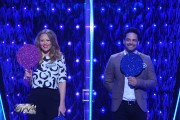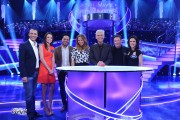 May,31 2014
Kimberley and her partner Justin Scott will appear on All Star Mr & Mrs on Wednesday 18th June on ITV.
They will be competing against comedian Johnny Vegas & his wife Maia Dunphy and Emmerdale actor Chris Bisson & his partner Row.
Watch how they get on and how much money they raise for their chosen charity, next month!
If you are getting lost and confused about upcoming dates, please see the calendar dates on the left sidebar. If i have missed any out, please tweet me @GirlsAloudMedia
Dec,17 2013
► 5th January – All Star Family Fortunes – ITV1 – 7.45pm
Kimberley and her family have recorded 'All Star Family Fortunes' and you will be able to watch them early in the new year.
The Walsh Family go head to head with dancing legend Wayne Sleep and his family playing for Big Money and competing for the chance to win up to £30,000 for charity.
I have added 4 HQ pictures on the forum so go check them out!
[HQ] Kimberley Walsh on All Star Family Fortunes 05/01/14
……………
** Also announced today, Kimberley will be on Sunday Brunch this Sunday 22nd Dec, Channel 4 at 9.30am. **
Sep,30 2013
Kimberley appeared on ITV's Loose Women this afternoon to talk about her book A Whole Lot Of History.
She spoke about Girls Aloud, missing Strictly Come Dancing, the Louis Walsh drama, and also her boyfriend of 10 years Justin.
Thanks to @JohnNadine for the HD video, watch the interview again above.
Added some pictures of her leaving the studios, they are in the usual place on the forum: http://www.girlsaloudmedia.com/smf/index.php?topic=46486.0
Jul,26 2013
Cheryl and Kimberley will feature on a 2-part series on ITV1 called 'You Saw Them Here First'.
This brand new entertainment show goes back to the start for a host of famous faces, revealing their very first shots at stardom.
It will feature a 10-year-old Cheryl Cole dancing in a bright yellow leotard for a children's TV show.
We will also see a cute 5-year-old Kimberley Walsh appearing on children's show The Book Tower in '86.
This show sounds too good not to miss, episode 1 starts next week Wed 31st July and episode 2 will be a week later on Wed 7th Aug.
Feb,13 2013
ITV are running a campaign called 'From The Heart' which is running through Valentine's week, to raise awareness of organ donation and the NHS Organ Donor Register.
Thanks to @Tweeting_our_CR for tweeting these 2 pictures of Kimberley and Sarah supporting this campaign.
Click on the pictures below to see the full photos.
You can join the organ donor register online or you can call the NHS Donor Line on 0300 123 23 23
More information: http://www.itv.com/fromtheheart/
Feb,08 2013
Kimberley appeared on Loose Women yesterday afternoon to chat to the women about her solo album. She also spoke about Strictly and her role in Shrek The Musical.
We also have pictures from the show, see them all here: http://www.girlsaloudmedia.com/smf/index.php?topic=45570.0
Jan,19 2013
Kimberley will appear on tonight's Jonathan Ross Show on ITV1 at 9.45pm to talk about her solo album 'Centre Stage'.
News articles today report she also spoke about her relationship with Scott, the Girls Aloud tour, Cheryl and Tre and following her 'bum' on Twitter.
See pictures from the show on the forum here: http://www.girlsaloudmedia.com/smf/index.php?topic=45441.0
Another date for your diary: Kimberley is appearing on the Matt Edmonson show on Radio 1 tomorrow, listen between 12pm-1pm