May,20 2014
Yesterday, Grazia's Contributing Beauty Editor, Poppy Lara, jetted to Cannes to meet a certain Geordie beauty. Here's what happened…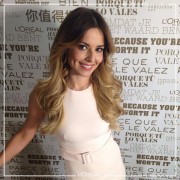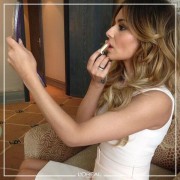 Meeting Cheryl Cole in Cannes feel different to anywhere I've met with her before. Cannes has a buzz, and you can't help but feel part of it.
We're at The Hotel Martinez, a Cannes film festival institution, to chat with Cheryl about her latest L'Oreal campaign. While waiting (not for long – she's running on time even after a rumoured 4am party finish), I witness the spectacle that is Cannes.
Real eagles flying around the lobby? No one bats an eyelid. Victoria's Secret model Alessandra Ambrosio sweeping back and forth through the bar with a film crew? Nothing to see here. This is not a normal hotel, this is a machine.
Interviewing Cheryl this time is different too, she's more relaxed. Seems older, wiser and she's the boss. Maybe it's true when they say, you become the 'real you' after 30. As I walk in, she's laughing away, checking out potential red carpet accessories on her assistant's phone. I definitely spot diamonds but there's no sign of a hangover.
With a new make-up artist, we have to admit this is the best we have seen Cheryl, more natural yet at the same time more flawless. And slim – fit slim, as we call it. And as we later find out, she's more into her health than ever.
Wearing a cream, fitted Alexander McQueen dress, a grown up yet sexy choice, we get down to chatting about what Cannes means for Cheryl, after 5 years of gracing the carpet as one of L'Oreal's key ambassadors. 'Come on, it's magical! But I get it now, I'm five years in. I know where to stand, what to do. I still get a hint of nerves but nothing like I used to. I know what suits me on the carpet too now.'
After swapping make-up tips (sorry designers, but Cheryl stashes a pre-loaded blusher brush in her red carpet clutch bag) and discussing the perils of packing too much for a holiday (read the full interview in Grazia next week), I ask about her packing tips.
'I should know how to pack, but I don't,' Chezza says. 'I would quite literally take the kitchen sink if I could'. She then shows me a very exciting, but very secret, new launch between herself and L'Oreal. We wish we could say more but we're sworn to secrecy (for now).
Later, when we see Cheryl in her magnificent Monique Lhuillier dress, you know that the stride, the banter with the teams of photographers and the calm control is not just a show. And as she heads back to front X Factor, she knows who she is. Confident, funny, and the boss.
Source: Grazia
HQ pictures from the premiere | Having her makeup done | Leaving her hotel
Apr,28 2013
In celebration of her autobiography, My Story, going from hardback to paperback, Cheryl talked us through the highlights of her career from those heady days on Popstars: The Rivals to her Hollywood cameo. But most recently, she took to the stage for 'Ten: The Hits' tour just before the announcement that Girls Aloud would be splitting, a decade after the girl band was first formed.
So what was it like to reunite on stage? 'It's an indescribable feeling – we've lived and breathed each other for years,' Chezza told us. 'It's a chemistry that you will never have with anybody else… It was just like a big party, the whole tour. It was really special actually.'
As for the emotional final performance, Cheryl reveals she shed a tear the night before. 'It really hit you hard and I couldn't stop once I'd started the flood gates. It was the fans actually – there was a few at the front crying because we had a montage behind that was a story of the ten years and once I'd gone, I didn't stop for the whole of the last two songs.'
After sharing so much together, Cheryl says there are many stand out moments, from growing up together to winning a BRIT Award. 'If you could listen in on some of the conversations we had over the past few months reminiscing… There's been some really special moments. We laughed and cried over some of the memories on this tour.'
So what's next for our Chez? Although she was planning to release a third single from her second solo album before the Girls Aloud tour, she decided to dedicate herself completely to the band. Once the tour was wrapped up and GA's split was confirmed, Cheryl jetted off for a relaxing holiday with her new man, Tre Holloway, when she took the opportunity to entirely relax and switch off. 'I haven't really planned to do anything next which is actually strange and daunting and kind of okay. I'd planned to not plan and it's actually really nice. I'm just taking a break now.' Lord knows she deserves it.
Cheryl: My Story (Harpercollins, £7.99) is available from www.amazon.co.uk
Apr,16 2013
It's the lovely @cherylcole! Stay tuned to graziadaily.co.uk for our exclusive interview with the pop beauty. twitter.com/Grazia_Live/st…

— Grazia_Live (@Grazia_Live) April 15, 2013
Cheryl will appear in an upcoming issue of Grazia magazine.
Interviewer @Jessie_Vee was the lucky girl to do the honours in asking the questions. She tweeted a sneak peek of what we can expect to read.
Chezza fans, she's just as magical as you'd promised. I'm sworn to ABSOLUTE secrecy but will let you know as soon as the interview is up.
She talked red carpet disasters, the music she's loving and happy memories with Girls Aloud.
Nov,27 2012
From her first solo tour to a best-selling autobiography, 2012 has been a hell of a year for Cheryl Cole. Now she's ready to party – and Grazia went along for the ride.
In this exclusive behind the scenes video our Beauty Director Liz Hambleton and Beauty Editor Lauren Murdoch Smith describe the inspiration for Grazia's get ready with Cheryl shoot, including the pieces that were called in for the pop star to wear and the makeup and hair that L'Oreal stylists created for her festive party looks.
Watch now to see beautiful candid moments with the style icon and pick up this week's issue of Grazia magazine as Cheryl reveals her ultimate pre-party pampering tips, as well as how she's keeping in shape right now.
Aug,29 2012
Cheryl talks to Sylvie van der Vaart about her life and how they have been through similar experiences.
Sylvie is a dutch model who has modelled for L'Oreal, been through a life-threatening illness and dated a footballer.
The interview comes with a lovely photoshoot of them both.
Check out the scans and the translated interview here:
http://bkfromchimcity.tumblr.com/post/30453764896
Big thanks to dutch Cheryl fan @BKFromChimCity for providing the rough translation and scans of this magazine.
Jul,11 2012
In this week's issue of Grazia, we bring you Lottie Lumsden's exclusive interview with Cheryl Cole. The Geordie popstar reveals she's fighting back against the internet bullies with a little help from Prince Charles and her new charity Cheryl Cole Foundation, which launched at the end of last year. She also dishes on her embarrassing slip-up when meeting Charles himself and her difficult childhood in Newcastle. For the full interview, get thee to the newsagent pronto but because we're generous folk, we wanted to bring you a taster. Read on for the highlights…
On The Cheryl Cole Foundation
'I'm sick of talking about myself and my career and I had an overwhelming sense of needing to do something for charity. I wanted to give back.'
On internet bullies
'In the last few years I've been bullied on Facebook and Twitter. It's evil and very public. People judge my appearance and hair, and say that I look fat. And I want to help these young people because I know how it feels to come out on the other side and be someone who achieves.'
On her upbringing in Newcastle
'There were a few near misses. When you live in an underprivileged environment like some of the kids I've met you do make the wrong decisions and you hang out with the wrong people.'
On the Duchess of Cambridge
'Kate is really down to earth and we talked about fashion and she said she loved my music. She was incredibly girly and sweet.'
On Prince Harry
'Everybody knows I have a soft spot for Harry. He's cute. I've met him several times and we laugh about it. It's a bit of banter between us. He's so ordinary and a normal 27-year-old who is living in a crazy world and we can bond over that.'
Dec,06 2011
Cheryl Cole has revealed that she is happier than ever after being out of the spotlight for four months and gaining seven pounds.
Looking more amazing than ever in this new shoot, Cheryl said that she had gone up a dress size and couldn't be happier about it. Speaking to Grazia magazine, Cheryl said: "This is a happy time – onwards and upwards."
It may have something to do with her massive shoe collection. Cheryl confessed: "I've always, always loved shoes but over the past few years I've definitely developed a proper fetish.
"I own about two thousand pairs of shoes – and that's after giving quite a few away. I'm a bit weird with them. There are shoes I don't wear anymore but I just can't part with them.
"If I can't wear them again I also can't get rid of them because they are so linked to that emotion. I'm probably a bit bonkers like that.
"I hoard them all over the house, in cupboards in the kitchen, in the bathroom, every room. There is a big chance when you open the fridge in my house there will be a pair of shoes at the bottom.
"My absolute favourites are a lace pair of Louboutins. I wore them the first ever time I went to Cannes, two years ago. For me, all shoes have memories – wearing them on a certain occasion like that means the shoe gets that memory."
She may be giving Imelda Marcos and SJP a run for their, er, heel habits but Cheryl refuses to obsess about everything, namely her weight.
The star admits: "When I'm really thin is normally when I am working nonstop. I don't put any emphasis on thinking, "Oh, I'm thin at the moment. Right now I've got my curves back because I've had time off, I'm at home cooking, I'm more relaxed.
"I'm not defined by being seven pounds heavier than I was two months ago – I think it is really unhealthy to go there.
"I've got my boobs and bum back and, yeah, I like it. I think it's sexy."
View all content of this post »