Oct,08 2013
Nicola, Cheryl and Kimberley all travelled to Amsterdam over the weekend for a party for Nicola's 28th birthday.
Sharing the celebrations over on their instagram accounts, fans got a glimpse of party activites, including toe sucking (EWWW!), 'Discola' and midnight dinner.
All the pictures from the weekend, including the airport candids are all linked below to the forum threads.
Jul,06 2013
Cheryl finally excepted her birthday mission last night, and Twitter exploded in excitement.
#Missionaccepted @cheryls30th lmao!!! The creeper has been out creeped !!! Hahaha

— Cheryl Cole (@CherylCole) July 5, 2013
Fans @Dabelladine and @GoChezza (with the awesome help of CC's PA Lily) had organised a massive surprise gift for Cheryl, from her soldiers. It has been going for a few weeks now and was kept quiet in a secret group on Facebook [HERE]
The idea was to send Cheryl on a laser tag with her close friends and family. This meant a whole venue had to be paid for (so she wouldn't be easily spotted by paps), by the fans. The cheapest Lily quoted was £649 and had to be raised in a few days so it could be booked. The fans rallied round and the amount was easily gathered in a couple of days! As the amount went over the target it was confirmed any left over money would go to Cheryl's Foundation for the Princes Trust.
Once the money was raised, Alice and Levi made a little spy kit for Cheryl to open to find out about the surprise (rather then find out on Twitter). The kit contained a card with a key to open the box, an agent letter and id.
After nearly a week after her birthday, Cheryl finally knows about her surprise. Lily even videoed a little clip of her opening the kit here:

#missionaccepted by @iamlil

Now to wait for pictures from the laser tag! Well done to all who helped raised the money, and for fans Alice and Levi for organising it all.

Jul,02 2013
Cheryl 'Lady Cheryl' is now the proud owner of one-square foot Scottish estate in the Kingdom of Fife!
Her gift from Simon Cowell was revealed, after the press were publishing stories about Si snubbing her party last week.
Simon took to his twitter setting the record straight:
And I didn't snub Cheryl's party. I just couldn't go because of my filming dates. We are close friends again and I adore her.

— Simon Cowell (@SimonCowell) July 1, 2013
Cheryl replied "Don't worry I know. And thank you for my lovely gift!! Xx."
One square foot is a tiny measure, but apparently, this can make you a 'Lady'!
Jul,01 2013
Cheryl, Kimberley and Nicola are in the US for CC's big 30 celebrations.
One of many parties attended, was at Hakkasan Las Vegas nightclub inside MGM Grand on Saturday. There they drank and partied in the VIP booth, to a DJ set by Calvin Harris.
Cheryl was surprised by the staff with a 3 tiered cake
The night soon wore them out, thanks to @lisalaudat1 for this cute pic! Nicola is definitely regretting those shots!
It looks like there was another, more tamer party that happened last night. Check out 2 instagram video clips of the evening:
And also a picture via @FeFe_Burgos instagram
See the rest of the pictures from their US trip so far, below on these forum links:
Jun,30 2013
Happy 30th Birthday Cheryl!
Chezza is officially in her flirty thirtys, and to celebrate i wanted to do a buzzfeed-style post looking back at some of her best moments in her 20′s.
1. When she offered to get pied in the face at POB Awards 2010
2. When she shows her love for dogs
3. When she swan-dived on The Voice UK 2012
4. Her ever growing relationship with Kimberley
5. SALUTE!
Of course, there is a lot of moments, didnt have the time or space to post them all!
Feel free to tweet me @GirlsAloudMedia your favourite moments and i will RT the best ones!
Nov,19 2012
On Saturday night, after Kimberley performed on Strictly (and the Girls recorded their performance for Sundays show) they all went to the Light Bar, St Martins Lane Hotel to celebrate Sarah and Kimberley's birthdays.
The girls were quick to tweet about the party:
Well that was an absolutely AMAZING night! Now time to celebrate with @sarahnharding for our birthday's! Woop woop! #lovemygirlstoomuch

— Kimberley Walsh (@KimberleyJWalsh) November 17, 2012
@sarahnharding let'sPaaarrrttttyyyyy beeaaatttcchhhh ! Happy Birthday Hardcore.. Love you

— Cheryl Cole (@CherylCole) November 18, 2012
See pictures from the evening [HERE]
Oct,07 2012
Nicola started off her birthday on Friday, sharing this cute picture of when she was young:
— Nicola Roberts (@NicolaRoberts) October 5, 2012
On the evening, she partied at Mahiki with her sister, close friends and even some Styled To Rock designers (Ricky and Heidi).
I've scoured the internet all weekend, but the only evidence that Nicola did go out on Friday night, is this twitpic, thanks to her friend Grace Davis on twitter:
What an amazing night @nicolaroberts@claire_mitchy twitter.com/GraceDavisX/st…

— Grace Davis (@GraceDavisX) October 6, 2012
Jul,01 2012
Cheryl, Kimberley and Nicola are currently in Las Vegas, to celebrate Cheryl turning 29.
Nicola has been keeping us posted on twitter with whats been going on!
They held a surprise birthday lunch for Cheryl, with all guests wearing Cheryl masks!
See more pictures here:
http://www.girlsaloudmedia.com/smf/index.php?topic=44466.0
Then came the party on the night: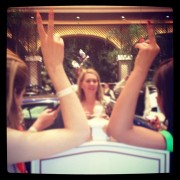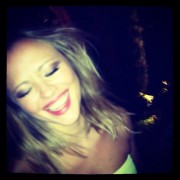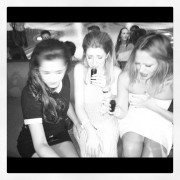 The girls were partying at XS nightclub, where will.i.am was playing a DJ set.
See more pictures of the party here: http://www.girlsaloudmedia.com/smf/index.php?topic=44467
Kimberley and Nicola have also been seen sunbathing by the hotel pool. See pictures here: http://www.girlsaloudmedia.com/smf/index.php?topic=44465.0
Im guessing my invite got lost in the post girls…