Oct,07 2012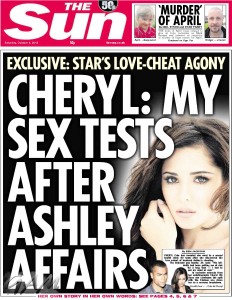 The Sun newspaper are running exclusive extracts taken from Cheryl's new book 'My Story' for a few days.
In her own words we find out exactly went on in various parts of her life, so she can tell the fans what really went on.
The first extract talks about the moment she found out about Ashley Cole's cheating ways.
Read the full article on The Sun's website [HERE]
Newspaper scans can be found on the forum [HERE]
May,03 2011
According to some magazines that came out today, Cheryl Cole has supposedly been seeing Ashley for a month in secret.
Well, you can now breath a sigh of relief! Her PR spokesman @supersonicpr tweeted a picture of the magazines with a straight-to-the-point caption!
It's bulls*** Tuesday. Again.
Good to see her PR clearing things up quickly for fans.
Oct,23 2010


Part 1 | Part 2 | Part 3 | Part 4
Thanks to @KimWalshOnline for providing Youtube links to Cheryl's heartbreaking interview that aired on ITV last night. Its split into 4 parts, click the links above to view them.
If you want the HQ video in full or the audio of the interview to listen on your ipod, click the links below.
Oct,23 2010
The dressing-room door opens and a lapdog jumps off Cheryl Cole and scurries across the floor. "Hello, dog," I say. "How are you?" "Hello," says Cheryl Cole barely moving her lips, "my name is Blue and I'm very well, thank you." Blue jumps back on to Cole's knee, and before I know it they're swapping soppy, sloppy kisses and I feel as if I'm playing gooseberry.
"He's not my dog," Cole says. "He's the son of one of mine." She looks into his eyes – great, dark, wet pools, not unlike her own. "He's a gorgeous boy. Very cute. He looks like his mam." She smiles her X Factor smile – warm, gentle, empathetic. Cole recently said, "I don't trust anybody in my life except my mother and my dogs."
Not surprising, really. While she has enjoyed huge success as a solo singer and as part of Britain's most successful female pop group, Girls Aloud, and perhaps most of all as a judge on The X Factor, her private life has been hellish. Her split from footballer Ashley Cole was played out in the tabloids, with evidence of her husband's infidelity splashed across the front pages. When she didn't talk, the press speculated whether Our Cheryl was having a breakdown, was anorexic, had lost it as a judge, had fallen out with Simon Cowell, was seeing other men for revenge, was seeing lawyers for the ultimate revenge… Probably only Princess Diana and Posh Spice have obsessed the media as much. But even when it was announced Cheryl was divorcing Ashley still she didn't speak.
Ten months on, she's sick of having words put into her mouth and has agreed to do one television interview (with Piers Morgan) and one newspaper interview, with the Guardian. After this, she says, that's it – she will never discuss her private life in public again.
On a scale of one to 10, how bad has the last year been? "Eleven," she says instantly. She starts off with marriage, but mid-sentence changes to malaria. The disease, which she contracted three months ago while holidaying in Tanzania, is an easier place to begin. "It was the day after my birthday when the symptoms first started. I put it down to that I'd been drinking vodka the night before, because I'm not a regular drinker. I put it down to just a big hangover. It got gradually worse and worse."
What were the symptoms like? "I was exhausted and having flushes, goosebumps one minute – blue lips, blue fingertips, blue toes – to then being boiling hot. My skin was wet. I couldn't breathe properly." She was diagnosed and admitted to intensive care at London's Hospital for Tropical Diseases.
Is it true she thought she was dying? "Yeah," she says quietly. "You want to know the details? I had no liver function, no kidney function, I was swollen with the fluid, I had no oxygen in my blood, I literally had 24 hours to get fluid out of my body, otherwise my insides were going to pack in. You know how sometimes you feel ill and say, 'I feel like I'm dying'? Well, I actually felt like I was dying. I asked the nurse outright – was I going to die? She said, 'There's a possibility.' "
She comes to a shocked stop. Was she terrified of dying? "No, I was too tired to be scared. Honestly. I can't even describe to you – I was just like, I wish it would hurry up."
She asked if she could make her will, and was told that if she didn't improve in 24 hours she should. The critical state lasted 36 hours and she was in hospital for 10 days.
She is still spooked by the illness, not least by the fact that the previous year she had climbed Kilimanjaro to raise money for malaria sufferers. "It is weird, isn't it?" she says, almost to herself.
Today, she still looks a little fragile. I offer her some of my sweets.
"I'll have a wine gum," she says.
"What's wrong with jelly babies?"
"I don't like the flour on them. It goes through us."
View all content of this post »
Oct,18 2010

Cheryl Cole has dyed her hair a plum red to symbolize a fresh start following her divorce from footballer Ashley Cole.
The singer and X Factor judge decided to spice up her colour shortly after finding out that her divorce from the footballer is likely to be officially confirmed in the High Court this week, according to The Sun.
Cole's lawyers will reportedly apply for a decree absolute today (18th October) after having been granted a decree nisi six weeks ago.
According to a source, the 'Parachute' singer's new style is showing the world: "I'm back!" and when she came into the X Factor studion with her new style, apparently she said: "Right, let's kick some arse!"
Cheryl Cole will be talking about her divorce, something she didn't mention in her autobiography, with Piers Morgan on his show 'Life Stories'. It will air on 23rd October at 10pm.
What do you think of Cheryl Cole's new colour?
Oct,15 2010
Cheryl Cole broke down during a television interview as she spoke about her failed marriage and battle with malaria.
The X Factor judge told Piers Morgan that her split from England footballer Ashley Cole had left her heartbroken, but she insisted she will 'always love' him.
The 27-year-old told Morgan's ITV1 show Life Stories last night that she was at a loss to explain why the relationship had collapsed.
Miss Cole, 27, revealed she still regularly speaks to him, despite his infidelity during their three-and-a-half year marriage. She was granted a divorce in September.
The singer was in tears as she said she still believed he was 'a genuinely nice guy', adding: 'Once we get over this obstacle, I hope we can be friends again. A part of me will always love Ashley.'
She explained: 'Looking back on it, I feel numb. We had a great marriage and a fantastic wedding day but I don't know where it went wrong.
'To this day I still question that.'
Miss Cole also revealed that she wrote a will after doctors told her she was on the brink of death with malaria.
The X Factor star said she had been given just 24 hours to live as she fought the illness in hospital.
View all content of this post »
Sep,27 2010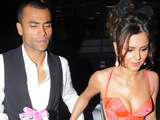 Cheryl Cole's upcoming autobiography makes no mention of ex-husband Ashley, it has been revealed.
The 'Fight For This Love' singer completely leaves out any reference to Ashley in her 253-page book Through My Eyes, and even claims that she had "the best times of [her] life" in the last two years, according to The Sun.
Cheryl also apparently writes in detail about Derek Hough, who she describes as "the best" and "a sweetheart", and will.i.am, who she reveals is "passionate to the core".
Similarly, while there are several pictures of Cheryl with Hough and will.i.am in the autobiography, there are no photos of the 27-year-old with her former husband.
The X Factor judge refuses to divulge anything about her battle with malaria, although she does indicate that she wants to spend more time in the US after she moves out of her Surrey mansion.
She writes: "I've spent a bit of time in LA over the last couple of years… I love it that the sun shines all the time."
Through My Eyes is released on Thursday.
Sep,26 2010
Ashley Cole has reportedly called in lawyers in an effort to force his ex-wife Cheryl out of their marital home.
As part of the couple's divorce settlement the Chelsea footballer is keeping the £6million mansion.
However, Ashley is currently sharing a flat with a pal and has allegedly become impatient to move back into his home.
The X Factor judge has confirmed that she will vacate the Surrey mansion at the end of next month.
A friend of the Chelsea defender told The People: "Ashley has made no secret of his wish to move back into the house and he was becoming increasingly frustrated about the delay.
"Ashley realised Cheryl had spent a lot of time in Los Angeles recently and is now busy with X Factor but he decided to try and force the issue a little.
"He is relieved to learn his lawyer has received an assurance that Cheryl will move out at the end of next month."
When the Girls Aloud singer has been in the UK in recent months she has lived at the house with her mum Joan Callaghan.