Aug,28 2014
With her baby due to arrive any day now, Kimberley Walsh is in full on nesting mode.
"It's quite nice, and I'm quite a homebody anyway. I'm kind of just pottering around the house," she told us.
Although she's got a "bit of a cold at the moment", Kimberley has prepared the nursery, stocked up on baby products and caught up on episodes of One Born Every Minute to help prepare for the birth of her first child.
"I'm enjoying it but there comes a point where there's nothing left to do! Then you have to sit back, relax and enjoy resting, which I guess is the whole point.
"You have to try to store up energy before the sleepless nights."
The star revealed that her bump is so big now that she struggles to get off the sofa.
"I feel a bit debilitated I suppose. As someone who is quite active and used to running around it's annoying to have to do everything so slowly.
"I'm at the point now where it's like, 'OK, I want the baby to come out. Now!'"
Is she nervous about giving birth?
"I think I'm more excited, which is strange," she said.
"I think that it's the anticipation of wanting to meet them and knowing whether they're a boy or a girl.
"Even though you know the birth will be quite painful, you focus more on finally getting to see them."
View all content of this post »
Aug,27 2014
The X Factor press launch hit London this evening, and Cheryl arrived in a black and white dress with her hair in a chic pony tail. The judges (minus Mel B) were in attendance to launch the first episode to the press, before it airs on TV this Saturday.
Check out the video below on what Cheryl had to say about the new series, seems like little has changed since she has been away.
and photos from the launch can be seen on the forum.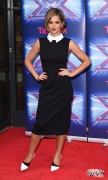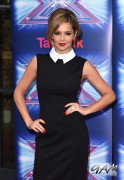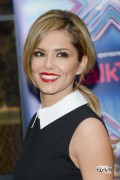 Follow us on
Twitter
for updates
Aug,27 2014
Part 2
Part 3
Part 4
Thanks to TeamGirlssAloud -Wiki on Youtube.

Take a trip down memory lane, with Cheryl's favourite moments of her time on The X Factor so far. From laughing too much at Ant & Seb, to breaking down in tears when she saw a familiar Pop Stars The Rivals face. This show features new interview clips from Cheryl as she talks us through her best bits and her winning moments as a judge. Can she win again this year?
[DOWNLOAD] from the forum
Aug,26 2014
Girls Aloud star Kimberley Walsh has always looked out for her little sister Amy by vetting her boyfriends and making it clear when she didn't think they came up to scratch.
So when she met a handsome single man while starring as Princess Fiona in Shrek The Musical in London's West End, she took matters into her own hands.
Amy, 27, who has just joined the cast of Emmerdale as a feisty troubled girl, laughs as she recalls her sister's matchmaking two and a half years ago which led to her meeting actor Bradley Jaden, 27.
She says: "Kimberley was starring in the musical and Bradley was understudying the part of Shrek so they all did their rehearsals together.
"She got friendly with him and invited him along to her 30th birthday party.
"She did some expert matchmaking. She is always very protective with me, ­especially when it comes to boys, so to have her approval of him early on helped him out in a big way.
"Before the party she told me, 'there is someone going along tonight who might be interested in you', so she planted the seed and it happened. We just hit it off, so it was thanks to her."
Life at home with the Walshes as they grew up in Bradford sounds like a scene from The Sound of Music.
Her eldest sister Sally, 35, was the first to go to a local drama school, followed quickly by Kimberley, 32.
Amy and brother Adam, 30, joined later when they were old enough. Acting and singing became a distraction from the pain when their parents divorced.
Amy says: "It was a pretty chaotic house. We would make up shows in our living room. We have three cousins a similar age and when we were all together it was like the von Trapp family.
"Every day was a different show. We used to practise and rehearse different musicals we were learning at stage school.
"Adam always got told where to stand and who to play, he was bossed around a lot like me. Sally and Kimberley were very dedicated. They would get up before school and rehearse and practise things.
"My mum is a music teacher so she would be playing on the piano. It was wonderful. It was escapism for us, it helped us escape from our parents' divorce."
View all content of this post »
Aug,26 2014
Ahead of her return to the X Factor former Girls Aloud star and newlywed Cheryl Fernandez-Versini chats about her feud with Simon Cowell, her love for Ed Sheeran and the toughest thing about being an X Factor judge.
What made you decide to come back to the show this year and how does it feel to be back?
Well aside from a lot of begging and grovelling on Mr Cowell's part, it just felt like the right time to come back. I'd had enough time away to appreciate it and get really excited to find new talent again.
Did you have any first day nerves when you started the auditions again or was it like riding a bike?
This time it was like riding a bike. The first time I did it I was terrified, but this time I was more excited. Is there a particular type of contestant you are looking for this year – a specific genre, category, or music style perhaps? I'm always looking for somebody fresh. I'm never looking for the next whoever; the next Justin Beiber, the next One Direction. I want somebody to come in that we don't quite know if we get it or not. Something fresh that we haven't got.
You once described Simon as your 'frenemy' – do you still think of him like that? How would you describe your relationship with him now?
I think Simon's a bit like an annoying brother. We're like brother and sister and he's the annoying one. We've heard that Simon has been winding you up during filming for the auditions – what's he been doing and have you got your own back? Simon has his very own way of being very annoying. He knows which buttons to push and he'll push them, and push them, and push them. But I play the long game. I'm waiting. Don't worry about me, I'll get my own back.
So much is written about your wardrobe, do you look forward to planning your X Factor look or is it a daunting process given the huge focus there is on it?
When I first started X Factor it was never focused on what the judges wore, it was about the contestants. I try and remember that's what it's all about. It's not about what clothes I'm wearing. Obviously I like to feel nice and wear nice clothes, I'm a girly girl, so when it comes to the live shows I like to wear the sparkly dresses. But mainly it's about the contestants for me and if people enjoy my dress that's nice.
Have there been any disagreements with your fellow judges so far?
I think it would be uninteresting and not real if we didn't disagree. Obviously it's human nature and you feel different things for different people. So there's been different points of view and disagreements.
View all content of this post »
Aug,26 2014
Simon Cowell isn't a man who likes to say sorry, but sacking Cheryl Fernandez-Versini (then Cole) from the US X Factor in 2011 is one thing he holds his hands up to.
"If I could go back in time I would have kept her on the show," Cowell tells Radio Times as the duo return side by side for series 11 of the UK version this Saturday night.
"It was stupid doing what I did. I didn't sack her personally. That was the second-biggest mistake I made. When you're under pressure you make stupid mistakes."
On the now infamous orange and purple outfit that Cheryl wore for her US debut, Cowell remains blunt in his analysis. "I haven't a clue why she turned up like that. I asked her manager, 'What's she wearing, what's happened to her hair?' She was nervous, shy, not in her comfort zone. She'd put on a bit of weight, but not loads. The only way I can describe it is that it wasn't Cheryl sitting in that seat."
After her swift departure, Cheryl was offered a better deal to stay with the UK version of series, but she turned it down.
"The worst it got between us was when she sent me a text message. It was like when you get a really horrible letter from an ex-girlfriend. The general tone was something along the lines of "F*** you, you've hurt me, you've let me down, I can never forgive you.' I shrank."
But it did prompt a response from Mr Cowell. "I replied, apologising. I accepted that I had made a mistake."
Now, four years and some groveling later, the pair are back on the panel with long-standing judge Louis Walsh and new addition Mel B.
But a Simon/Cheryl reunion doesn't mean it's going to be all rosy on the panel. He's still ready and willing to push her buttons.
Avoid a question that might get him into trouble? Pah. "Is she a better singer than judge? Whatever I say I'm going to get into trouble. But I've got to be honest – as a singer, she's very good, but she's a better judge."
The X Factor returns Saturday and Sunday at 8:00pm on ITV
Read the full interview with Simon and Cheryl in this week's Radio Times magazine, on sale here now
Aug,26 2014
Nadine appeared on the Irish chat show over the weekend, which was recorded the previous night.
She talked about her daughters sleep patterns, and how becoming a mother has changed her, how she got involved in Dangerous Games, her accent, and a new album being in the pipeline!
You have

19 days

to watch the interview on the RTE Player here: http://www.rte.ie/player/gb/show/10316618/ from the 28min 30seconds mark!
If anyone could screen record the interview for our forum it will be appreciated!
Aug,24 2014
Week 3 of Tumble, sees Sarah do a chinese-inspired performance on the trampolines.
In her VT we saw her stress a lot about her back flip, but on the night she nailed it! A few harsh comments from the judges this week, but she got 26.5 points and is through to week 4.
If you missed it, give it a watch above! Thanks to Will for ripping this for GAM, watch above for Sarah's parts.