Jun,22 2014
I noticed quite a lot of you attended the Summertime Ball yesterday held at Wembley Stadium. In fact there were over 80,000 people in attendance!
Cheryl was of course there, to perform 3 songs.
She started off with her first solo hit 'Fight For This Love' followed by her new single 'Crazy Stupid Love' and finally 'Call My Name'
For those unfortunate to get a ticket, her videos are now up on Capital's website:
And the pictures are in the usual place on the forum:
Arrivals http://www.girlsaloudmedia.com/smf/index.php?topic=46977.0
Performance http://www.girlsaloudmedia.com/smf/index.php?topic=46980.0
Jun,22 2014
Cheryl Cole has teased more information about her forthcoming album, Only Human.
Speaking to Digital Spy at the Capital Summertime Ball, the singer told fans to expect a different sound on her fourth solo effort.
"It's a variation. There's some pop – 'cos that's what I do and love – but there's some R&B flavour on there," she said.
"Sia's done a couple of songs. The song, when I first heard it, was just full of personality and the girl is a genius. I'm just glad I got the chance to work with her."
Cole also revealed a duet with a mystery artist will feature on Only Human.
"I've done a collaboration with an up-and-coming artist who I'm excited about," she said.
Of her return to music, she added: "I'm glad to be back. I've been away a long time."
Only Human is set to be released in November, while lead single 'Crazy Stupid Love' is out on July 20.
Jun,22 2014
Cheryl appeared on The Graham Norton Show on Friday evening, talking to Graham about her new album (Only Human) and her tattoos, which you can view that part, in the video above.
I cant seem to find the full interview on Youtube atm (It's possible its been deleted due to copyright – times like these i miss our AloudSound video site!!) BUT you can download the interview from the forum thanks to Will for recording it for us!
http://www.girlsaloudmedia.com/smf/index.php?topic=46975
Jun,20 2014
Cheryl Cole has confirmed the title of her upcoming fourth studio album.
The British singer/songwriter christened her new collection "Only Human" and will release it in November via Universal Music Group / Polydor Records.
Chatting on The Graham Norton Show about inspiration for the title, the singer said: "I was exhausted, I'd had a solo tour and then toured with Girls Aloud so I took a year off to be with my family."
"It was the first time off I'd had in 10 years – it was a normal time."
Prompted that she was seen out on the town during this time, she added: "I did party a lot. I needed to let loose and it was the best thing I could do. The title sums up that time."
She also spoke about her return to The X Factor, and told Graham that Louis Walsh was not particularly pleased to see her back.
"It's a little bit frosty," she said. When asked with whom, she replied: "Louis."
After Norton asked if things were still off with her and Walsh, she joked: "They were never on!"
Speaking about her return to the ITV show, Cole continued: "There was a lot of grovelling to get me back once Simon was on board. It feels like I've never been away".
She also spoke about her highly-publicised bum tattoo, saying: "After I had malaria I created a 'f**k it list' – because life's too short – and the tattoo was on the list.
"It was in the £1000s, probably the cost of a small car."
Watch the interview tonight (June 20th) 'The Graham Norton Show' at 10.35pm on BBC One.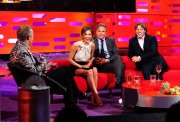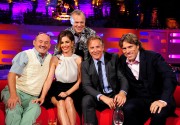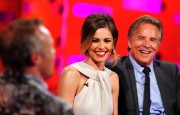 See more pictures: http://www.girlsaloudmedia.com/smf/index.php?topic=46973

Jun,19 2014
If you missed it last night, watch Kimberley and Justin on All Star Mr & Mrs. Video thanks to jpptubie on Youtube.
They managed to raise £5,000 for Breast Cancer Haven and CMV Action.
Pictures are on the forum [HERE]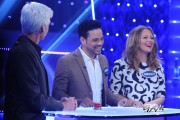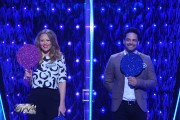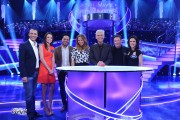 Jun,18 2014
Jun,18 2014
X Factor judge, Cheryl Cole, wears DSquared2 and Philosophy on the cover of the August issue of ELLE UK, on sale July 3, and gives a raw, uncensored interview about betrayals by both friends and lovers, being brought to the brink of breakdown, the bucket list she made at her lowest ebb, and her thoughts around having children. This is Cheryl, reinvented.
In the interview, to be officially released on July 3, she gives ELLE UK the exact wording of the text she sent one Mr Simon Cowell when she was dismissed from the US X-Factor, and talks about what prompted her return to the UK show. She wears Gucci, Louis Vuitton, Burberry, Miu Miu and Christopher Kane in the shoot by Ben Morris, and also stars in a playful Q&A film session
Fans can pre-order the August issue of ELLE UK, on sale July 3, to ensure they get the issue featuring her most surprising shoot and interview delivered straight to their doors. www.hearstmagazines.co.uk/elle/JES10073.
Also this month, sees ELLE UK's incredible, 30 page new-season fashion shoot starring Irina Kulikova and Zen, plus what you should buy on the high street before it's gone from the rails. Kesha opens up about her recent rehab treatment in a moving memoir, and one ELLE UK writer describes the self-doubt that sets in when your partner has the perfect body. Plus, ELLE shows you four wearable hair and make-up looks for any summer occasion.
ELLE UK'S AUGUST ISSUE ON SALE JULY 3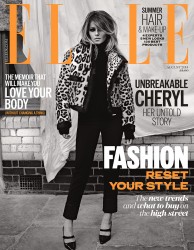 Jun,17 2014
Cheryl invited 'Good Morning Britain' on the set of her music video for Crazy Stupid Love.
Thanks to 'Will' for recording the above clip this morning, you can also download it [HERE]