Jun,03 2013
GIRLS ALOUD | THE COLLECTION
Studio | B-Sides | Live
—–
This is the Girls Aloud collection box set. It comes in a fantastic and compact bound form, in a sleeve type box. The box is sturdy and features only the names of the albums and some shiny stripes across the surface. The booklet which slides out from once side contains the 7 CDs and features a mixture of Girls Aloud artwork on the cover.
Inside the book, the first set of pages are extended sleeve notes. The introduction by Peter Robinson celebrates Girls Aloud and the effort that was put into producing great albums. Not just hit songs that would get to number one, but an incredible 45 minutes of music that could be enjoyed by anyone. He describes how the Girls themselves and production team Xenomania fed off each other to produce greater and greater things.
The notes then go on to highlight each of the five albums in turn, each description flanked by original artwork from the time. It takes you on the decade long journey of Girls Aloud, from the rough edges of Sound of the Underground to the polished brillance of Out of Control, and all the many highlights in between. You even get a mention of "Christmas tree" and "Intro" as Chemistry is celebrated as a firm favourite with hardcore fans.
The notes conclude with a page by Xenomania's Brian Higgins himself. He describes the process by which Girls Aloud's B-sides came about and how they were part of the main body of work, competing to become singles themselves. Brian points out Hoxton Heroes as his favourite, and describes how remarkable it was to have major music press talking about a B-side! This is followed by the discs themselves, each tucked away in a cardboard sleeve.
Each sleeve is printed in homage to it's original album artwork, and of course, contains the album itself on a CD. Please note that Sound of the Underground is the original album, with Don't Want You Back, Love Bomb and Everything You Ever Wanted. So sadly the collection is missing You Freak Me Out and the cover of Duran Duran's Girls On Film. The B-side CD not only contains all the original GA B-sides, but has Something Kinda Ooooh, I Think We're Alone Now and Something New, completing the line-up of hit singles.
Overall it is a lovely collection, but there won't be any music that the hardcore fan hasn't heard before. For a more recent fan who maybe missed out on having physical copies of the early albums, this is much more worth the money. Overall I'd say it's a must for anyone who loves Girls Aloud to pieces, and it's worth considering if you still have some Girls Aloud missing in your life and fancy picking up (almost) everything they ever sang in one go.
BUY FROM: Amazon | Official Store
This review is written by Keith, who is a co-owner over on our Nadine Coyle fansite, he kindly offered it to be posted here aswell. Follow his personal twitter here: @PayAsYouUpdate
Jun,03 2013
Sarah Harding is to advise the government as ambassador for a charity supporting British soldiers.
The former Girls Aloud singer has taken a role with Coming Home, an organisation raising money for injured military personnel returning from Afghanistan, The Mirror reports.
As part of the role, Harding will advise the government on how best to provide support to troops recovering from injuries and adjusting to home life.
A source revealed that Harding has been invited to give a speech at the House of Commons alongside representatives from the Falklands Veterans Foundation on June 13, which the 31-year-old is "terrified" about.
"Sarah has been asked to give a speech, which she is writing herself, on behalf of the charity.
"She will urge MPs to offer more fiscal and emotional support to our returning troops. It is something she feels passionately about. So she agreed to take part even though public speaking really isn't her thing."
Last year, fellow Girls Aloud bandmate Nicola Roberts appeared at Parliament representing anti-bullying charity Beat Bullying.
Jun,03 2013
Cheryl Cole strikes a pose for InStyle's July issue, revealing her thoughts on X Factor, Simon Cowell and the big 3-0.
Showing off her super toned figure in a wicker bustier dress by Dolce & Gabbana, the singer told InStyle: "The last X Factor series I did was too hard for me. I wasn't right in my mind enough to give it my everything and be focused. And I wasn't strong enough mentally."
And when asked whether Simon Cowell asked her to come back to boost flagging X Factor ratings, she responded: "I've seen Simon since. Like, we're friends again. But, I don't talk about flagging things to him. He'd have a meltdown."
Nailing every look from Prada to Louis Vuitton, Cheryl spoke candidly about turning 30, explaining: "When I look at the 21 year old me, I do not want to be that person. I was young and naïve. I'm a hell of a lot wiser, a hell of a lot stronger, I'm just happier with me now. It's weird but I'm not scared of it."
See even more stunning looks from the shoot and find out what Cheryl has to say about love, Girls Aloud and what she's planning next, only in the July issue of InStyle – out Thursday!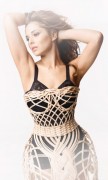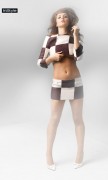 Jun,03 2013
Next weekend sees the launch of new glossy magazine Notebook from the Sunday Mirror.
The new title will have a strong emphasis on fashion and beauty, covering the latest health and beauty tips, film and celebrity stories, fashion and interior ideas, with Cheryl Cole gracing its first cover.
The first issue will be published on 9th June, free with The Sunday Mirror. It replaces the 'Celebs on Sunday' magazine.
Follow the twitter @notebook_live
May,29 2013
May,29 2013
We're delighted to announced that Girls Aloud star Kimberley Walsh is our ambassador for Sky Ride Leeds and will be attending the fun cycling event on Sunday 7 July.
The pop star, who made the final of Strictly Come Dancing in 2012, grew up in the Yorkshire city of Bradford and will be returning to her home county to officially start the ride and take in some of the route. The event will also mark the beginning of a year of cycling celebrations in the city, as Leeds and Yorkshire get ready to host the Grand Depart of the 2014 Tour de France for the first time.
There are lots of cycling events and activities taking place across Yorkshire this summer, including further traffic-free city rides in Bradford (11 August), Hull (18 August) and York (14 September), and over 200 smaller Sky Ride Local rides with British Cycling trained ride leaders taking place across the county throughout the summer.
Sky Ride Ambassador Kimberley Walsh commented: 'I'm really delighted to be involved in this summer's Sky Ride campaign and kicking off the first Sky Ride city event in Yorkshire on Sunday 7th July. It's a fantastic initiative and cycling is a great way to stay in shape and keep healthy. The best part of this event is that it doesn't matter if you haven't been on a bike for a while, if you're a novice or a more experienced rider, there is something for everyone.'
Find out more and register for free to join Kimberley and thousands of others at Sky Ride Leeds. http://www.goskyride.com/leedsSkyRide
May,28 2013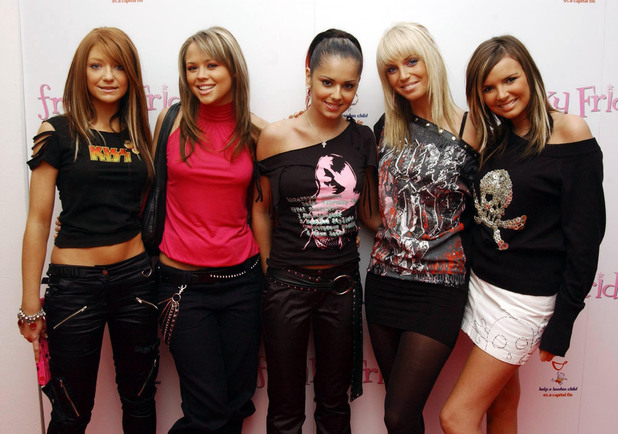 Girls Aloud producer Brian Higgins has opened up about the group's B-sides.
Higgins, who is the head of the former group's production team Xenomania, described their popular B-side songs as "edgy hybrids" that were often in contention to be released as singles.
In the sleeve notes for the group's new Collection boxset, Higgins said: "The first thing to point out is that the principle by which we wrote and created the GA albums was that of building a body of work – maybe 20 songs in total.
"We would not worry about specifically trying to write 'hits'. We just wrote a load of stuff that covered all of the musical possibilities we wished to experiment with at that time with the band.
"On many occasions therefore, the B-sides were songs created within the main body of work – they were not afterthoughts, they were songs that at some stage were vying for a much greater prominence. 'Androgynous Girls' for instance was written in the same batch of songs as 'Love Machine' and 'Wake Me Up'."
He continued: "'Dog Without A Bone' and 'Blow Your Cover' were recorded in the late summer of 2006 as we looked for a song that would be the lead single from their first greatest hits. That song eventually became 'Something Kinda Ooooh', but it shows how seriously we were taking these future B-sides."
Higgins also revealed that his favourite of the band's B-sides is 2008′s 'Hoxton Heroes', which served as the B-side to 'Can't Speak French', adding: "If for nothing else the coverage it received at the time of its release.
"I remember articles in the Guardian and NME commenting about the track 'having a go' at an indie scene. In many ways, this fuss was an example of how far the girls had come – from being put together on a reality TV show to having two of the top music magazines in the country discussing the lyrical content of one of their B-sides!"
He concluded: "Girls Aloud has always been about blurring the edges between pop and indie, creating confusion and breaking down artistic boundaries.
"If Girls Aloud ever have a legacy, I believe it will be that they show how pop music offers unlimited possibilities for artistic expression."
Girls Aloud – The Collection, which includes all of their studio albums, B-sides as live recordings, is out now.
May,27 2013
Cheryl has a knack for always looking gorgeous but at the 66th Cannes Film Festival, the L'Oréal Paris ambassador was looking even better than usual thanks to expert make-up artist Karim Rahman.
If you like her look as much as we do, keep reading to find out how to steal it.
Step one: Foundation
As you probably already know, it's immperative to choose a foundation that is the perfect match for your skin. Once you've found the right one for you (test as many as you need to), apply it sparingly for smooth, even coverage.
Don't be heavy handed with your foundation as this can result in a caked-on look.
To add colour and definition, dust a small ampunt of bronzer over your cheekbones for a contouring effect .
Step two: Eyes
Cheryl is known for her high-impact eye make-up but at Cannes, she went for a more toned down look. You can do the same by applying a subtle line of black eyeliner along your upper lashline and then applying two coats of black mascara.
Top tip: When applying your eyeliner, do it in little strokes as opposed to one big one. Not only is this technique easier, it also gives you better coverage.
Step three: Lips
To finish off this understated, feminine look, apply a pale pink lipstick like Cheryl and you're done! Just remember to take your lipstick with your when you head out for any necessary touch ups.
See a large version of the photoshoot picture here: www.girlsaloudmedia.com/smf/index.php?topic=46105.0