Sep,04 2014
N

owadays, even my religious mother-in-law would probably be comfortable giving another driver the finger", writes Irvine Welsh in the foreword to Rankin's new tome, the subtly titled F*ck Y*u. "It's like when American's say 'that sucks/you suck', they now (usually) no longer mean that you literally suck cocks, just that you, or it, simply isn't very good. The proffered finger is in a similar state of cultural metamorphosis. It's now often deployed semi-affectionately, with an ironic smile, usually in an acknowledgement that somebody has gotten one-up on you."

And it's exactly this tongue-in-cheek take on the age old insult that informs F*ck Y*u. Never one to take himself too seriously, and used to the odd insult, Rankin has been photographing celebrities giving him the finger for years. And it was a particular shot of supermodel Heidi Klum flipping the bird that inspired this book. And whether you know it or not, you're probably already pretty familiar with this shot. Ever been to Thailand, or any market in the world for that matter, that stocks brightly coloured printed t-shirts? Then you've definitely seen a topless Heidi giving the finger to Rankin's camera – though this was not where the shot was intended to end up. Originally printed in a book, then ripped-off by t-shirt manufacturers, Rankin's image has been reprinted thousands of times, if not millions, of times the world over.

But the middle finger photographs didn't stop there. On the advice of his French gallerist Arnaud Adida, Rankin delved into his archives to find similar shots, and started asking every famous face that came through his studios to flip him the bird. These images have been immortalised in F*ck Y*o and include the likes of Cheryl Cole, Katy Perry, Damien Hirst, Helena Christensen, The Rolling Stones and Robert Downey Jr, as well as that famous Heidi shot that planted the seed those years ago.

But it's not just a host of celebrities telling Rankin to f*ck off, British writer and broadcaster Jon Savage takes us through an age of expletives in his foreword, while Professor Paul Rixon explores its beginnings and iconic author Irvine Welsh sums up the finger in a way that only he could get away with. Never has so many people being so rude been more appealing.

F*ck Y*u is available exclusively at Urban Outfitters for the next six weeks, priced £25. Order the book here.
Sep,04 2014
POST WRITTEN BY:
Hayley [Admin]
at
21:46pm
| Filled under:
Cheryl Cole
Cheryl has launched a new Eyelash range with Eylure, that is exclusive to buy from Claire's Accessories.
There are 4 versions in the range, called 'Sexy Senorita', 'Belle of the Ball', 'Girls Night' and 'First Date'.
Each retail for £7 each.
Currently out of stock ONLINE but you will be able to find in your nearest Claire's shop nationwide.
Sep,01 2014
Grimmy chats to Simon, Cheryl, Mel B and Louis about the new series of The X Factor.
[DOWNLOAD]
Sep,01 2014
Aug,31 2014
Week 4 of Tumble, and Sarah showed off her skills with a ball.
In her VT this week, we saw her struggle with coordination, but having a lot of fun and laughs in rehearsals. On the night, she made a few errors in her performance, but continued on and styled it well. She got a score of 29 from the judges.
She is also through to next week's Semi-Finals, well done Sarah! This means we get to start voting!!
If you missed it, give it a watch above! Thanks to Will for ripping this for GAM, watch above for Sarah's parts.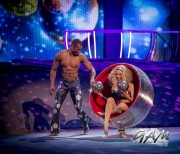 Aug,31 2014
The X Factor Season 11 kicked off last night on ITV1, and as usual did not disappoint! The first show includes a past contestant making Cheryl cry (again!), 2 wacky girls being so irritating they are good (really Simon??!) and a fan of Cheryl's trying her best to impress.
If you missed it, watch it above or download on the forum. [DOWNLOAD]
Watch the spin-off show 'The Xtra Factor' here: http://www.dailymotion.com/video/x24xibz_xtra-factor-e-11-e-1_shortfilms or [DOWNLOAD]
Episode stills are on the forum too:
Aug,31 2014
Sarah Harding is featured on the new Rymez single called 'Crazy For Your Love'. It also features Wiley and Sneakbo.
Rymez has uploaded a teaser onto his SoundCloud account, listen above to hear.
Already sounds like a stonker of a tune!
Thanks to SarahHardingAddicts for the info.
Aug,28 2014
Cheryl was seen on Good Morning Britain this morning, chatting to Richard Arnold as he caught up with her and Mel B backstage at an X Factor audition. Watch the interview above thanks to CherylCole Youtube.
She was also on a segment on This Morning, which you can watch below: