Aug,22 2014
On Thursday, Nadine headed to the London Palladium, for the press launch of Lord of the Dance: Dangerous Games, which she is taking part in.
She was introduced by Michael Flatley as his 'secret weapon' and looking gorgeous in red as she nestled in among the show's cast of talented young dancers on the Palladium stage.
'I've been a fan of Michael's and of Lord of the Dance since I first saw it,' she said, 'so that's the last twenty years I've been watching everything Michael has done and it just gets better every time. When we first met and Michael asked me to be part of the show, I couldn't believe it. I was on Cloud 9 – still am. To be here in the London Palladium singing Gerard's songs, to be with such an amazing cast and crew I'm just so delighted and just can't thank you enough Michael for the opportunity.'
Check out the pictures from this event on NadineCoyleFan.com, my other site!
Appearances & Events > 2014 > 21st August – Lord of the Dance: Dangerous Games Press Launch

Aug,22 2014
Nominated by Cheryl, Nicola completed the ice bucket challenge!
Watch her video above.
She then posted this cute picture of herself, looking freezing!
Aug,20 2014
Cheryl was nominated by Simon Cowell to take on the #ALSicebucketchallenge.
The challenge involves dumping a bucket of ice cold water over yourself, and nominating 3 others to do it within a 24hr period. The idea came about in America, donating to the ALS Association. In the UK, participants donate to the Motor Neurone Disease Association.
Cheryl has nominated Piers Morgan, Liam Payne and of course, Nicola Roberts.
Will Nicola step up to the challenge?


Aug,18 2014
Its week 2 of Tumble, and Sarah continues to wow us again with a floor performance.
Her 'dive forward roll' over her partner Leon was definitely the highlight for me! She scored 28.5.
If you missed it, make sure you give it a watch! Thanks to Will for ripping this for GAM, watch above for Sarah's parts.
Aug,18 2014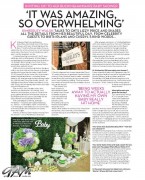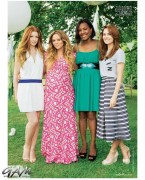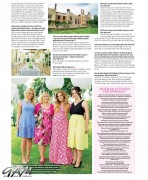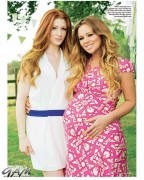 In last week's OK magazine (available in your local shops until tomorrow if you have not bought it yet!) Kimberley was featured with a gorgeous new photoshoot and interview for her baby shower. Nicola was in attendance.
If you missed it, you can view the rest of the scans on the forum [HERE]
Aug,11 2014
Tumble made its debut airing on Saturday, and Miss Harding certainly wowed us with her aerial performance.
She looked really nervous but her intricate moves made it look easy.
If you missed it, it's definitely worth the watch! Thanks to Will for ripping this for GAM, watch above for Sarah's parts.
Aug,11 2014
POST WRITTEN BY:
Hayley [Admin]
at
22:07pm
| Filled under:
Cheryl Cole
Cheryl has once again landed the favourite category in this years X Factor.
An X Factor source said: ­"Cheryl was thrilled. She's been teasing Simon non-stop since ­saying he may as well quit now ­because there's no way he will win.
"Everyone knows he's not happy. The over-25s are stronger this year than previous years but it is still the category none of the judges wanted."
It's not yet known who is going to be her guest judge for the Judge's Houses part of the show.
Just before being told of the decision, Cheryl shared this selfie on instagram:
Aug,07 2014
What is Sarah looking forward to most about Tumble?
International fans can download the video [HERE]