Aug,26 2014
Ahead of her return to the X Factor former Girls Aloud star and newlywed Cheryl Fernandez-Versini chats about her feud with Simon Cowell, her love for Ed Sheeran and the toughest thing about being an X Factor judge.
What made you decide to come back to the show this year and how does it feel to be back?
Well aside from a lot of begging and grovelling on Mr Cowell's part, it just felt like the right time to come back. I'd had enough time away to appreciate it and get really excited to find new talent again.
Did you have any first day nerves when you started the auditions again or was it like riding a bike?
This time it was like riding a bike. The first time I did it I was terrified, but this time I was more excited. Is there a particular type of contestant you are looking for this year – a specific genre, category, or music style perhaps? I'm always looking for somebody fresh. I'm never looking for the next whoever; the next Justin Beiber, the next One Direction. I want somebody to come in that we don't quite know if we get it or not. Something fresh that we haven't got.
You once described Simon as your 'frenemy' – do you still think of him like that? How would you describe your relationship with him now?
I think Simon's a bit like an annoying brother. We're like brother and sister and he's the annoying one. We've heard that Simon has been winding you up during filming for the auditions – what's he been doing and have you got your own back? Simon has his very own way of being very annoying. He knows which buttons to push and he'll push them, and push them, and push them. But I play the long game. I'm waiting. Don't worry about me, I'll get my own back.
So much is written about your wardrobe, do you look forward to planning your X Factor look or is it a daunting process given the huge focus there is on it?
When I first started X Factor it was never focused on what the judges wore, it was about the contestants. I try and remember that's what it's all about. It's not about what clothes I'm wearing. Obviously I like to feel nice and wear nice clothes, I'm a girly girl, so when it comes to the live shows I like to wear the sparkly dresses. But mainly it's about the contestants for me and if people enjoy my dress that's nice.
Have there been any disagreements with your fellow judges so far?
I think it would be uninteresting and not real if we didn't disagree. Obviously it's human nature and you feel different things for different people. So there's been different points of view and disagreements.
View all content of this post »
Aug,26 2014
Simon Cowell isn't a man who likes to say sorry, but sacking Cheryl Fernandez-Versini (then Cole) from the US X Factor in 2011 is one thing he holds his hands up to.
"If I could go back in time I would have kept her on the show," Cowell tells Radio Times as the duo return side by side for series 11 of the UK version this Saturday night.
"It was stupid doing what I did. I didn't sack her personally. That was the second-biggest mistake I made. When you're under pressure you make stupid mistakes."
On the now infamous orange and purple outfit that Cheryl wore for her US debut, Cowell remains blunt in his analysis. "I haven't a clue why she turned up like that. I asked her manager, 'What's she wearing, what's happened to her hair?' She was nervous, shy, not in her comfort zone. She'd put on a bit of weight, but not loads. The only way I can describe it is that it wasn't Cheryl sitting in that seat."
After her swift departure, Cheryl was offered a better deal to stay with the UK version of series, but she turned it down.
"The worst it got between us was when she sent me a text message. It was like when you get a really horrible letter from an ex-girlfriend. The general tone was something along the lines of "F*** you, you've hurt me, you've let me down, I can never forgive you.' I shrank."
But it did prompt a response from Mr Cowell. "I replied, apologising. I accepted that I had made a mistake."
Now, four years and some groveling later, the pair are back on the panel with long-standing judge Louis Walsh and new addition Mel B.
But a Simon/Cheryl reunion doesn't mean it's going to be all rosy on the panel. He's still ready and willing to push her buttons.
Avoid a question that might get him into trouble? Pah. "Is she a better singer than judge? Whatever I say I'm going to get into trouble. But I've got to be honest – as a singer, she's very good, but she's a better judge."
The X Factor returns Saturday and Sunday at 8:00pm on ITV
Read the full interview with Simon and Cheryl in this week's Radio Times magazine, on sale here now
Aug,26 2014
Nadine appeared on the Irish chat show over the weekend, which was recorded the previous night.
She talked about her daughters sleep patterns, and how becoming a mother has changed her, how she got involved in Dangerous Games, her accent, and a new album being in the pipeline!
You have

19 days

to watch the interview on the RTE Player here: http://www.rte.ie/player/gb/show/10316618/ from the 28min 30seconds mark!
If anyone could screen record the interview for our forum it will be appreciated!
Aug,24 2014
Week 3 of Tumble, sees Sarah do a chinese-inspired performance on the trampolines.
In her VT we saw her stress a lot about her back flip, but on the night she nailed it! A few harsh comments from the judges this week, but she got 26.5 points and is through to week 4.
If you missed it, give it a watch above! Thanks to Will for ripping this for GAM, watch above for Sarah's parts.
Aug,23 2014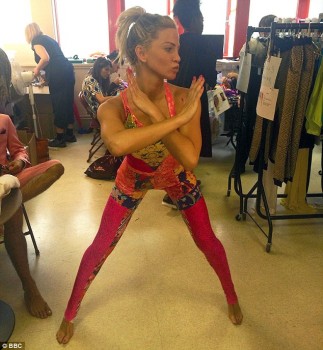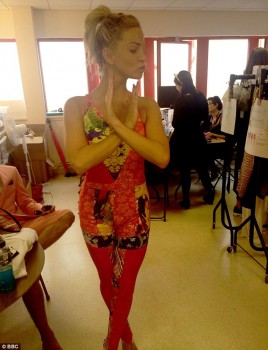 Like all the celebrity contestants preparing for this week's Tumble, Sarah Harding knows she has to up her game.
And it looks like the pressure has been getting to the ex-Girls Aloud singer as she broke down in tears during rehearsals this week.
Sarah and her partner, gymnastics coach Leon Fagbemi, have been preparing a Crouching Tiger, Hidden Dragon-inspired routine for their trampolining performance on Saturday's live show.
And while she is loving her eye-catching pink costume for the show, it looks like the actual moves from the routine is stressing her out.
Sarah and Leon have been rehearsing a Chinese-syle routine, with even a parasol being incorporated to a performance.
The singer is hoping to perform some kung-fu kicks and martial arts moves while flying through the air mid bounce.
An insiders told the MailOnline: 'Sarah is having lots of aches and pains and the nerves have been a challenge. She really wants to do well and not end up having to do vault.
'Everyone is hoping she won't come a cropper on live television.'
So far Sarah and Leon have received scores of 25.0 for the Aerial Hoop in Week 1 and 28.5 for the Floor in Week 2.
Sarah is among half the celebrity contestants who will be performing trampoline on Saturday, while the other half will be doing rhythmic floor routines with props.
…………
Check out this new promo shot of Sarah, thanks to @JamesBLW!
@SarahNHarding hope you like my shot of you from the #tumble promo film shoot, good luck #bbctumble. https://t.co/NUjZjHjyWn

— james w (@jamesblw) August 22, 2014
Aug,22 2014
StormFlower is available now from Superdrug and The Perfume Shop nationwide.
For more information on StormFlower head to www.cherylfragrances.com

Aug,22 2014
On Thursday, Nadine headed to the London Palladium, for the press launch of Lord of the Dance: Dangerous Games, which she is taking part in.
She was introduced by Michael Flatley as his 'secret weapon' and looking gorgeous in red as she nestled in among the show's cast of talented young dancers on the Palladium stage.
'I've been a fan of Michael's and of Lord of the Dance since I first saw it,' she said, 'so that's the last twenty years I've been watching everything Michael has done and it just gets better every time. When we first met and Michael asked me to be part of the show, I couldn't believe it. I was on Cloud 9 – still am. To be here in the London Palladium singing Gerard's songs, to be with such an amazing cast and crew I'm just so delighted and just can't thank you enough Michael for the opportunity.'
Check out the pictures from this event on NadineCoyleFan.com, my other site!
Appearances & Events > 2014 > 21st August – Lord of the Dance: Dangerous Games Press Launch

Aug,22 2014
Nominated by Cheryl, Nicola completed the ice bucket challenge!
Watch her video above.
She then posted this cute picture of herself, looking freezing!