Nov,05 2010
X FACTOR judge Cheryl Cole's best mate Kimberley Walsh has NEVER voted for one of her pal's acts, she admitted yesterday. And Kimberley even confesses to picking up the phone to support rival Louis Walsh's stars.
Kimberley – who has been in Girls Aloud with Cheryl for more than eight years – goes to the studio and hangs out backstage with her pal every single week. But she has never once voted for Cher Lloyd, Treyc Cohen, Katie Waissel or Rebecca Ferguson.
In fact, the only times she has voted have been for Louis's John Adeleye, who went out in week three. Kimberley admitted to TV Biz: "I don't vote, actually. I know I should. I am one of those people that Cheryl is always moaning about because I'm not happy when my favourite goes – but I don't vote."
"Although I did vote a few times for John because I felt he was a good singer and I felt he needed it and I felt sorry for him."
But Kimberley insists she loves the show and is thrilled Cheryl can get her the hottest ticket in town.
She said: "Of course I love watching the show. What's the point in having a friend on the show if you can't get tickets to come and watch?"
And she was blown away last week by Cher, who sang her version of Shakespear's Sister number one Stay. She added: "I love Rebecca. Although Cher's performance of Stay gave me goosebumps."
Kimberley also spoke out about the girls' alleged rift with bandmate Nadine Coyle.
Kimberley admitted she, Cheryl and Nicola Roberts went to a Halloween party at Sarah Harding's house rather than support Nadine, who was performing her new single Insatiable at G-A-Y. She said: "There is nothing to say. We missed the Halloween show at G-A-Y which was a real shame."
But she insisted she would make time for the band's fifth member soon. She added: "I'm in Dublin at the end of the week and I think she is there too. So I'll see if I can meet her there."
Kimberley also advised Nadine not to get down about her single only being at number 35 in the mid-week charts.
She said: "You can't concentrate on the chart positions or you will go mad."
Nov,05 2010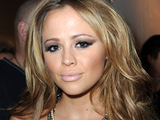 Kimberley Walsh has admitted that she did not send Nadine Coyle a good luck message as she launched her debut solo single.
According to OK magazine, Walsh confessed that she is "so bored" of answering questions about her estranged Girls Aloud banmate.
"There is nothing to say," she said. "I can't keep talking about it. I haven't sent her a good luck message.
"To be honest, she's just wanted to do her own stuff for a while and she'll just be glad when she's got her single out there and she is doing the music that she wants to do."
Nov,05 2010
Her Girls Aloud bandmate Nadine Coyle is often attracting criticism for her weight, but Kimberley Walsh has always been a proud purveyor of womanly curves.
But the 28-year-old singer appeared to be following in Nadine's footsteps, as she was seen looking noticeably slimmer at the launch of New Look flagship Ireland store in Dublin's Jervis Street Shopping Centre.
Wearing a tight black studded dress, Kimberley looked slim and svelte as she posed for photographers ahead of the store opening.
And her slimline look contrasted with her appearance as she left the X Factor studios after watching the show last month, looking curvier in a little black dress.
Speaking about how she manages her weight recently, Kimberley explained she often struggles to stick to a healthy diet.
She said: 'I'm like any other normal girl. I have ups and downs; I can focus and be healthy for a few weeks and then I'll have a bad week.
'If I ate what the rest of the girls ate I'd be three times the size, but at the same time, I'm not vain enough to starve myself.'
Nov,05 2010
She couldn't have looked any happier as she left Los Angeles after a whirlwind trip to visit her close friend Derek Hough.
Cheryl Cole smiled widely and beamed at photographers as she headed back to London ahead of this weekend's X Factor shows after spending just 24 hours with her dancer pal.
The 27-year-old singer texted on her mobile phone as she walked through LA's LAX Airport ready to catch her flight, and looked stunning in her all-black outfit of cropped trousers, high-heeled boots and a trendy double-breasted jacket.
The X Factor judge was spotted keeping a low-profile in Derek's car as he pulled up outside the plush Century apartment block in Century City on Wednesday, shortly after arriving in the US city.
While Hough, 25, was happy to be photographed in his jeans and shirt, Cole hid in the front seat of his black Audi – with just her dyed red hair just visible over the dashboard.
The day of Cheryl's visit coincided with Derek writing a public declaration of congratulations to the singer on his Twitter page after her single Promise This got to number one on Sunday.
He wrote yesterday: 'Dimples is number one wahooooooooooooooooo !!!! So proud of her, especially after such a tough year.'
The pair haven't seen each other for the beginning of September since Cheryl returned to London from LA for the X Factor live shows.
Nov,04 2010

BUSY Cheryl Cole has recorded a single with Dizzee Rascal, but the Bonkers singer has revealed they've never met.
X Factor judge Cheryl couldn't be bothered to meet the award-winning MC who appears on her forthcoming single Everybody which can be heard on her new album Messy Little Raindrops, released earlier this week.
And Dizzee, who last year toured with the Geordie's foe Lily Allen, has shocked fans by revealing Cheryl had no input at all in his work.
He even admitted he didn't mind not seeing her as he was worried they wouldn't hit it off.
Talking about laying down the music to add credibility to Cheryl's album, Dizzee said: "It was like it never happened.
"I never saw her.
"They sent me three tracks and I basically picked the one I thought would be best.
While Dizzee didn't enjoy actually collaborating with Cheryl, he admits he was keen to work on her track because of her popularity and guaranteed sales.
He added: "It should be good. It will be good. It's Cheryl Cole, innit."
Nov,04 2010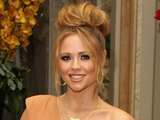 Kimberley Walsh has criticised reports of a feud with Girls Aloud bandmate Nadine Coyle.
The singer insisted that she has no issues with Coyle and that Girls Aloud would "definitely" be reunited after their break.
"We're so bored of it," she told the Daily Star. "There's no story to tell. We're just five nice girls."
She continued: "We will definitely be back as a fivesome soon. We miss each other when we're not together."
Coyle and Cheryl Cole have both confirmed that the girl group will return.
Nov,04 2010
Cheryl Cole loved recording her new album 'Messy Little Raindrops' because the biscuits served in the studio were so tasty.
Cheryl Cole says eating chocolate biscuits was the best thing about recording her new album.
The 'Promise This' singer loved being back in the studio working on 'Messy Little Raindrops' because the standard of the sweet snacks was so high.
Quizzed on her memories of recording the record, she said: "Eating a lot of chocolate biscuits stands out for me. There were always really nice, just made biscuits at the studio, and sometimes you get hot cookies. They're really nice – hot chocolate and hot cookies it doesn't get much better."
The slender star also revealed she regularly gets sent her favourite sweet treats by her fans, who she has given a special nickname.
She explained in a video interview posted on YouTube: "Cheryl's little soldiers that's what I've named my fans. It's a good name.
"I get so many Curly Wurly bars and chocolate HobNob biscuits from the fans it's amazing. The best bit about a Curly Wurly is all of it! You just have to eat it all. I couldn't separate it."