Jun,05 2014
Here is a first look at Cheryl's new video for 'Crazy Stupid Love'.
Those abs!
Cheryl's video goes online on the 9th June, on VEVO.
See more UHQ stills on the forum [HERE]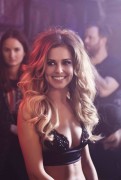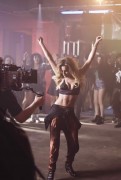 Jun,05 2014
So Nadine performed 'Dangerous Games' twice during the pre-recording of Michael Flatley's 'A Night To Remember' whilst she was in London. This has been confirmed by a fan that was in the audience.
Interestingly, The @MichaelFlatley twitter account, tweeted this Youtube link tonight, of a second version of her performance.
See if you can spot any differences, from the one aired on ITV last week, there's a big one around the 54 second mark! From that mistake alone, i wonder if this version wasn't meant to be seen at all. If it does get removed, i've uploaded it to the forum [HERE]
Jun,04 2014
Kimberley Walsh, newly-appointed patron of CMV Action – a charity dedicated to raising awareness of and, ultimately, eradicating a killer virus that affects 1 in 1000 newborn babies in the UK each year – has launched the "Wash Away CMV" campaign.
She is asking people to post pictures of their hands with the words Wash Away CMV written on them to highlight the message that something as simple as washing your hands can prevent the spread of CMV, especially amongst pregnant women.
These simple hiygene precautions include three important areas:
DON'T SHARE:
Avoid sharing dummies, cutlery, drinks or food with anyone.
Avoid kissing young children under the age of 6 on the mouth or cheek. Instead, kiss them on the head or give them a big hug.
WASH WITH CARE:
Wash your hands with soap and water after coming into contact with any bodily fluids. Wash well for 15 to 20 seconds.
Wash any items that have been contaminated by bodily fluids with soap and water
DO WEAR:
Use condoms during sexual intercourse after conception
Kimberley's friend, Lisa, has a son, Christian, who was diagnosed with congenital cytomegalovirus shortly after being born, which has left him profoundly deaf and autistic.
CMV, or cytomegalovirus, is a common virus that can infect people of all ages. Once CMV is in a person's body, it stays there for life. Most healthy adults and children will have no signs or symptoms, and no long-term effects. However, it can be very dangerous to unborn babies. Congenital CMV is one of the main causes of children being born with birth defects in the UK.
Pregnant women are more at risk because, if they catch the virus, it can cause a number of birth defects in their developing baby. .
CMV is the most common infection at birth. Around 1 in 1000 babies born in the UK will be damaged by CMV – that's nearly 1000 babies every year. As CMV is unheard of, it is a common misconception that it is rare. It is, in fact, more common than Down's Syndrome, Toxoplasmosis, Spina Bifida or Rubella.
Commenting on her decision to become a Patron of CMV Action, Kimberley Walsh said:
"For me, it's personal, especially now being pregnant myself. The CMV virus affected my friend's son, which means he has permanent disabilities.

I have always wanted to do something for Christian and particularly the charity CMV Action, set up to support families affected by CMV and to raise awareness of the CMV virus.

Congenital CMV is one of the main causes of children being born with birth defects in the UK but pregnant women are not routinely told about it, nor the simple steps they can take to protect themselves.'
HOW TO SUPPORT:
Simply write 'Wash away CMV' on your hand, take a photo and send it in. Together we can get the message out about the simple hygiene precautions that can save babies' lives.
Email your photos direct to hands@cmvaction.org.uk, post them to our Facebook page – www.facebook.com/CMVAction or send us a direct message. Tweet your photos using the hashtag #washawaycmv and @cmvactionuk.
Jun,03 2014
A few radio interviews i found, mainly from different regions of Capital FM, and the last one is by Heart FM.
CAPITAL NORTH EAST
CAPITAL YORKSHIRE
CAPITAL NORTH WEST & WALES
HEART
Jun,03 2014
Glowing Miss Walsh made an appearance at the annual Health Lottery tea party yesterday, showing her support as she is an ambassador for the charity.
Watch the video above, to hear her talk about her pregnancy and her excitement at watching Cheryl perform again.
Pictures are on the forum here:
http://www.girlsaloudmedia.com/smf/index.php?topic=46927.0
Jun,02 2014
Jun,02 2014
Jun,02 2014
Nadine Coyle performing 'Dangerous Games' on Michael Flatley: A Night to Remember, 1st June 2014.
This song is the title track to Lord of the Dance: Dangerous Games production, and the tour starts in September!
Buy tickets: http://www.lordofthedance.com/