Jul,11 2012
Cheryl Cole met young people from the region when she visited The Trust's offices to announce that her foundation will be helping disadvantaged young people in Prince's Trust xl clubs in the North East.
The Newcastle-born singer announced that her Cheryl Cole Foundation will fund The Trust's xl clubs, which help pupils at risk of exclusion and those who are in danger of leaving school with no qualifications.
Cheryl met Naomi Evans, 22, from Newcastle. Naomi left school with no qualifications but managed to turn things around thanks to help from The Trust. Cheryl said: "I've been inspired by all the young people I've met through The Prince's Trust. It was great to meet Naomi and hear her story. I have always admired the work of The Prince's Trust and now I want my foundation to support the charity's xl clubs across the North East."
"I grew up in an under-privileged area in Newcastle and often felt like I wouldn't have a chance to succeed. It would have been great to have a Prince's Trust xl club at my school back then.
Fortunately I was given a break – but many don't get the chance. Too many young people face issues such as bullying or problems at home. I want to give even more young people in the North East a chance to succeed.
Naomi is a great example of how The Prince's Trust helps to turn young people's lives around."
David Beavis, Regional Director for The Prince's Trust in the North East, said: "It is fantastic to have the support of the Cheryl Cole Foundation here in the North East.
Cheryl is clearly passionate about supporting young people and we're over the moon that she is joining our mission to help the most disadvantaged youngsters get their lives on track."
For more information visit www.cherylcolefoundation.org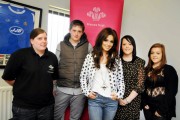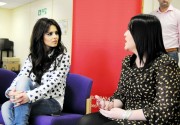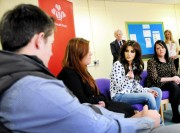 For more pictures go to the forum here http://www.girlsaloudmedia.com/smf/index.php?topic=44494.0