Jul,20 2012
CherylCole.com gave fans an exclusive first look at her video by releasing some brilliant picture stills.
I've uploaded the High Quality versions on the forum here:
http://www.girlsaloudmedia.com/smf/index.php?topic=44531.0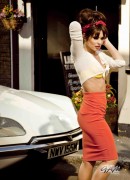 The video will premiere on Monday 23rd July on Cheryl's VEVO channel. The single is due for release on 2nd September.
More info about the video and the single artwork was posted yesterday [HERE]
Reminds me of The Promise video!