Oct,01 2014
Currently at home with her newborn son Bobby, Kimberley recorded this show a few months ago for Sky One, which aired on Monday.
If you missed it, watch again on the above video.
If you can't watch it above due to country restrictions, download the file on the forum:
http://www.girlsaloudmedia.com/smf/index.php?topic=47217
Sep,16 2014
More pictures http://www.girlsaloudmedia.com/smf/index.php?topic=47185.0
Kimberley is taking part in this year's Children in Need campaign, to get the nation baking.
The idea is to get viewers to choose a classic cake and make their own version for the annual fundraising drive.
Along with actress Kara Tointon and presenter Laura Whitmore, Kimberley and Denise are encouraging everyone to then show off their creations by holding a bake sale.
'It is fun, delicious and will go on to help change the lives of disadvantaged children and young people right here in the UK,' said Kimberley.
Looking every inch the domestic goddesses, the foursome slipped on floral frocks to promote the campaign, whilst showing off something they made earlier.
Children in Need is on November 14th.
To get involved, visit bbc.co.uk/Pudsey for your fundraising pack.
Sep,08 2014
Kimberley announced the arrival of 'Baby Aloud' number 2 on her twitter on Thursday:
Our beautiful baby boy Bobby arrived yesterday afternoon 04/09/14 he's perfect

— Kimberley Walsh (@KimberleyJWalsh) September 5, 2014
She went into labour Wednesday and welcomed their baby boy into the world at 16.52pm on Thursday evening.

She has spoken exclusively to OK Magazine how hes already following in her footsteps:
"My friends have joked that my baby would arrive on time because I'm so punctual, and he did! I gave birth on Thursday 4th September, which was my due date"
Congratulations Kimberley and Justin!
To celebrate, @WalshDaily has set up a lovely donation page where fans can leave messages for the happy couple on their new arrival and also raise money for CMV Action, a charity which Kimberley is an ambassador for.
To leave your donation and message please click [HERE]


Aug,28 2014
With her baby due to arrive any day now, Kimberley Walsh is in full on nesting mode.
"It's quite nice, and I'm quite a homebody anyway. I'm kind of just pottering around the house," she told us.
Although she's got a "bit of a cold at the moment", Kimberley has prepared the nursery, stocked up on baby products and caught up on episodes of One Born Every Minute to help prepare for the birth of her first child.
"I'm enjoying it but there comes a point where there's nothing left to do! Then you have to sit back, relax and enjoy resting, which I guess is the whole point.
"You have to try to store up energy before the sleepless nights."
The star revealed that her bump is so big now that she struggles to get off the sofa.
"I feel a bit debilitated I suppose. As someone who is quite active and used to running around it's annoying to have to do everything so slowly.
"I'm at the point now where it's like, 'OK, I want the baby to come out. Now!'"
Is she nervous about giving birth?
"I think I'm more excited, which is strange," she said.
"I think that it's the anticipation of wanting to meet them and knowing whether they're a boy or a girl.
"Even though you know the birth will be quite painful, you focus more on finally getting to see them."
View all content of this post »
Aug,26 2014
Girls Aloud star Kimberley Walsh has always looked out for her little sister Amy by vetting her boyfriends and making it clear when she didn't think they came up to scratch.
So when she met a handsome single man while starring as Princess Fiona in Shrek The Musical in London's West End, she took matters into her own hands.
Amy, 27, who has just joined the cast of Emmerdale as a feisty troubled girl, laughs as she recalls her sister's matchmaking two and a half years ago which led to her meeting actor Bradley Jaden, 27.
She says: "Kimberley was starring in the musical and Bradley was understudying the part of Shrek so they all did their rehearsals together.
"She got friendly with him and invited him along to her 30th birthday party.
"She did some expert matchmaking. She is always very protective with me, ­especially when it comes to boys, so to have her approval of him early on helped him out in a big way.
"Before the party she told me, 'there is someone going along tonight who might be interested in you', so she planted the seed and it happened. We just hit it off, so it was thanks to her."
Life at home with the Walshes as they grew up in Bradford sounds like a scene from The Sound of Music.
Her eldest sister Sally, 35, was the first to go to a local drama school, followed quickly by Kimberley, 32.
Amy and brother Adam, 30, joined later when they were old enough. Acting and singing became a distraction from the pain when their parents divorced.
Amy says: "It was a pretty chaotic house. We would make up shows in our living room. We have three cousins a similar age and when we were all together it was like the von Trapp family.
"Every day was a different show. We used to practise and rehearse different musicals we were learning at stage school.
"Adam always got told where to stand and who to play, he was bossed around a lot like me. Sally and Kimberley were very dedicated. They would get up before school and rehearse and practise things.
"My mum is a music teacher so she would be playing on the piano. It was wonderful. It was escapism for us, it helped us escape from our parents' divorce."
View all content of this post »
Aug,18 2014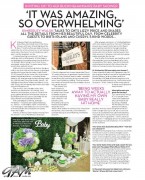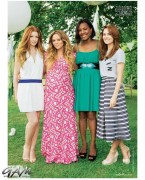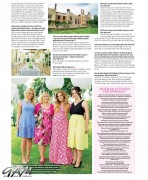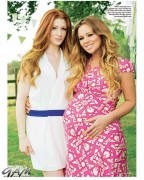 In last week's OK magazine (available in your local shops until tomorrow if you have not bought it yet!) Kimberley was featured with a gorgeous new photoshoot and interview for her baby shower. Nicola was in attendance.
If you missed it, you can view the rest of the scans on the forum [HERE]
Jul,14 2014
Listen back to Kimberley and Alistair Griffin on Radio 2 yesterday afternoon. They were interviewed by Richard Madeley and played an Acoustic session, singing The Road & If I Should Fall Behind (a Bruce Springsteen cover).
Jul,07 2014
Kimberley appeared on ITV's 'Weekend' programme along with Alistair Griffin, to promote 'The Road'.
They were both interviewed and then we got to hear them perform, not just The Road, but also 'Falling Slowly' from Kimberley's Centre Stage album! What a nice surprise for a Saturday morning.
If you missed it, check out the video above.
Thanks to Jpptubie Youtube for the video