Aug,24 2014
Week 3 of Tumble, sees Sarah do a chinese-inspired performance on the trampolines.
In her VT we saw her stress a lot about her back flip, but on the night she nailed it! A few harsh comments from the judges this week, but she got 26.5 points and is through to week 4.
If you missed it, give it a watch above! Thanks to Will for ripping this for GAM, watch above for Sarah's parts.
Aug,23 2014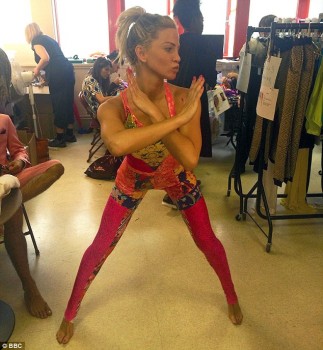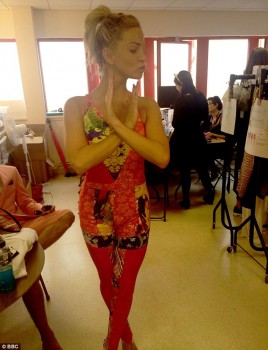 Like all the celebrity contestants preparing for this week's Tumble, Sarah Harding knows she has to up her game.
And it looks like the pressure has been getting to the ex-Girls Aloud singer as she broke down in tears during rehearsals this week.
Sarah and her partner, gymnastics coach Leon Fagbemi, have been preparing a Crouching Tiger, Hidden Dragon-inspired routine for their trampolining performance on Saturday's live show.
And while she is loving her eye-catching pink costume for the show, it looks like the actual moves from the routine is stressing her out.
Sarah and Leon have been rehearsing a Chinese-syle routine, with even a parasol being incorporated to a performance.
The singer is hoping to perform some kung-fu kicks and martial arts moves while flying through the air mid bounce.
An insiders told the MailOnline: 'Sarah is having lots of aches and pains and the nerves have been a challenge. She really wants to do well and not end up having to do vault.
'Everyone is hoping she won't come a cropper on live television.'
So far Sarah and Leon have received scores of 25.0 for the Aerial Hoop in Week 1 and 28.5 for the Floor in Week 2.
Sarah is among half the celebrity contestants who will be performing trampoline on Saturday, while the other half will be doing rhythmic floor routines with props.
…………
Check out this new promo shot of Sarah, thanks to @JamesBLW!
@SarahNHarding hope you like my shot of you from the #tumble promo film shoot, good luck #bbctumble. https://t.co/NUjZjHjyWn

— james w (@jamesblw) August 22, 2014
Aug,18 2014
Its week 2 of Tumble, and Sarah continues to wow us again with a floor performance.
Her 'dive forward roll' over her partner Leon was definitely the highlight for me! She scored 28.5.
If you missed it, make sure you give it a watch! Thanks to Will for ripping this for GAM, watch above for Sarah's parts.
Aug,11 2014
Tumble made its debut airing on Saturday, and Miss Harding certainly wowed us with her aerial performance.
She looked really nervous but her intricate moves made it look easy.
If you missed it, it's definitely worth the watch! Thanks to Will for ripping this for GAM, watch above for Sarah's parts.
Aug,07 2014
What is Sarah looking forward to most about Tumble?
International fans can download the video [HERE]

Aug,04 2014
Sarah has once again hit the stage, but this time, turning to DJ decks.
She was at The Wright Venue in Dublin on Saturday evening, spinning the tunes to the crowd.
She even played a 'Crazy Stupid Love'remix that got a huge reaction from the crowd as she danced along.
See all the photos on the clubs Facebook page:
https://www.facebook.com/media/set/?set=a.10152608070647505.1073741952.96019897504&type=1

Jul,28 2014
Here is the first promo image of the celebrities taking part in the new gymnastic show 'Tumble'. Sarah is seen bottom left in baby blue holding a ribbon.
She will be competing with other celebs: Sugababes singer Amelle Berrabah, EastEnders star John Partridge, Steps star Ian 'H' Watkins, presenter Andrea Mclean, The Only Way is Essex's Lucy Mecklenburgh, Wolfblood's Bobby Lockwood, Dynasty actress Emma Samms, Middleweight boxing champion Carl Froch and Mr Motivator.
Sarah has been partnered up with Leon Fagbemi, and will be performing different routines each week (for a maximum of 6 weeks) to win a place in the following weeks show until the final.
Live shows start on 9th August and the final is 13th September.
When the show starts, make sure you vote for #TeamSarah!
Watch the Official Launch trailer below
Jul,23 2014
Sarah is set to DJ at another club in Dublin next month.
Saturday 2nd August she will take to the decks of The Wright Venue.
If you decide you want to go, please check their website for further details on admission and location.