Sep,16 2014
Its the finals! Our lovely Miss Harding made it all the way through to the end and we couldn't be more proud!
Each finalist had to do a routine on the Trapeze before taking on The Vault.
Watch above and see Sarah's parts from the show, where she got 38 out of 40 judges score for her routine!
She didn't win, but came Top 3 couples for the series.
Sep,13 2014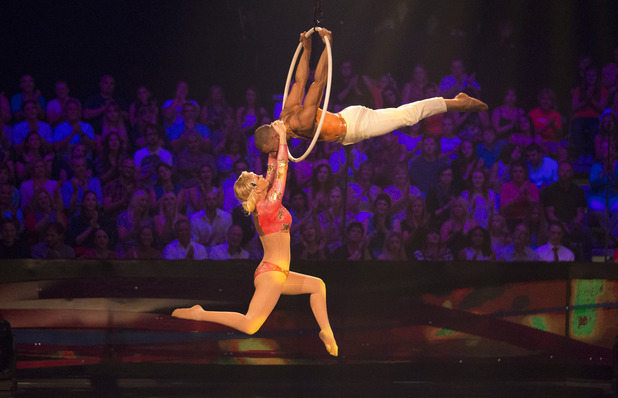 Tonight is the grand finale of BBC One's Tumble, and Sarah needs your votes!
We will tweet & post on Facebook the numbers to vote once revealed.
Voting from a landline is 15p and 15p from a mobile.
Voting opens after all finalists have performed 1 routine.
There are no excuses to not take part, as the lovely BBC people, have given us 3 FREE VOTES to use on their website.
Simply sign up, http://www.bbc.co.uk/tumble and go onto the voting page (when shown)  and use all your 3 votes for Sarah and Leon. More info about voting here.
Watch from 6pm
Come on #TeamSarah!
Sep,09 2014
Sarah went to the BBC Radio One studios today to appear on Scott Mills' afternoon show to play the infamous Innuendo Bingo.
The game is simple, sit opposite someone, hold some water in your mouth whilst you listen to a funny innuendo. If you laugh, the water from your mouth will obviously be sprayed over to the person opposite you.
Sarah got quite drenched with this one! Watch it again on the above video.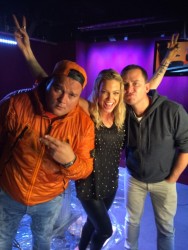 Sep,08 2014


Thanks to @SarahAddicts for the video
It's the Semi-finals! Time for Sarah to do 2 routines, a floor performance with her pro partner Leon and then the Beam, on her own!
Firstly, she turned into Spider Woman, and did a fantastic floor routine. Mixed reactions from the judges (Booo Hissss!!) but gained a score of 29.5.
Next up was the Beam. The girls in the semi-finals get 40 seconds to show their moves. Sarah was up first, and fell off as she did her cartwheel but she quickly jumped back on to do a body lift, determined not to fall off again. This routine is scored by the judges but then the public vote to make sure their favourite is saved.
Thankfully, from all our votes, Sarah got through to the finals, so well done to all who voted on Saturday!
Watch the emotional night in the above video, download and see more pictures below.
Sep,04 2014
Thanks to SarahHardingAddicts

This morning, Sarah appeared on Lorraine on ITV1.
She talked about Tumble and being impressed with how far shes got on the show.
She revealed she is on the beam on Saturday on her own, and then doing a floor routine with Leon, her Pro Partner.
She also mentions her solo music will kick off at the start of next year!
Watch above if you missed it.
Aug,31 2014
Week 4 of Tumble, and Sarah showed off her skills with a ball.
In her VT this week, we saw her struggle with coordination, but having a lot of fun and laughs in rehearsals. On the night, she made a few errors in her performance, but continued on and styled it well. She got a score of 29 from the judges.
She is also through to next week's Semi-Finals, well done Sarah! This means we get to start voting!!
If you missed it, give it a watch above! Thanks to Will for ripping this for GAM, watch above for Sarah's parts.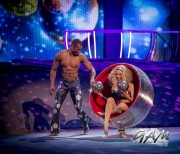 Aug,31 2014
Sarah Harding is featured on the new Rymez single called 'Crazy For Your Love'. It also features Wiley and Sneakbo.
Rymez has uploaded a teaser onto his SoundCloud account, listen above to hear.
Already sounds like a stonker of a tune!
Thanks to SarahHardingAddicts for the info.
Aug,24 2014
Week 3 of Tumble, sees Sarah do a chinese-inspired performance on the trampolines.
In her VT we saw her stress a lot about her back flip, but on the night she nailed it! A few harsh comments from the judges this week, but she got 26.5 points and is through to week 4.
If you missed it, give it a watch above! Thanks to Will for ripping this for GAM, watch above for Sarah's parts.