Aug,22 2014
Nominated by Cheryl, Nicola completed the ice bucket challenge!
Watch her video above.
She then posted this cute picture of herself, looking freezing!
Aug,18 2014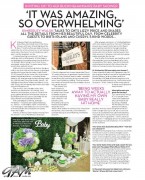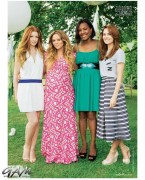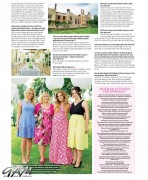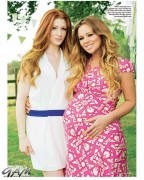 In last week's OK magazine (available in your local shops until tomorrow if you have not bought it yet!) Kimberley was featured with a gorgeous new photoshoot and interview for her baby shower. Nicola was in attendance.
If you missed it, you can view the rest of the scans on the forum [HERE]
Aug,04 2014
Fancy winning afternoon tea plus a recording session with Nicola Roberts?
Of course you do!!
Enter her exclusive competition here on the Superdrug website NOW!
http://www.superdrug.com/competitions/e0914competition_lilets_nicolaroberts#.U9ky3mN4fIU
If you win, you will be able to take up to 3 friends with you for afternoon tea in Hammersmith, London on October 4th, followed by a recording session to record a cover song together! Youn will also be given £250 towards travel costs.
Entry closes 26th August 2014.
Good Luck!
Jul,24 2014
It's been ages since we last seen Nicola do her thing, so it was a nice surprise to see this crop up on my feed this morning!
Randomly, Nicola has been chosen to promote the first ever airport branch of Nandos at London Gatwick's South Terminal.
I say 'randomly' because I've never seen her mention her love for the Peri-Peri goodness on twitter or in interviews or even be papped leaving one. However, i'm sure shes always been a fan just like most of us, who couldn't resist it!
The new 220-seater restaurant is also the first Nando's to serve a breakfast option, the exclusive Chicken Roll, and to have baristas on hand to offer coffee to travellers.
Thanks Nic, now if only Nandos delivered to my door… #craving
HQs
May,12 2014
Nicola Roberts talks to Lil-Lets Becoming a Teen about friendship and the hot topic of conversation she had with her friends as a teen!
For more information on friendships and growing up, please visit the Lil-Lets Becoming a Teen website: http://becomingateen.co.uk
To see more videos like this one, subscribe to the BecomingateenUK channel.
May,12 2014
The 28-year-old singer, who found fame alongside Londonderry's Nadine Coyle in Girls Aloud, is now a fashion icon, respected as much for her style as for her voice. She reveals all about those awkward teenage years and the joys of going it alone.
Since Girls Aloud came to an end, you've done solo stuff, presenting and modelling, so where do you see yourself in 10 years' time?
In 10 years' time, I'll be 38 (gasps)! Hopefully, I'll have two children, I will have definitely carried on with my music and writing, and I'd actually like to start taking up some photography I think. I mean we just have to feel lucky enough to get to 38!
Music is your main priority. Was it a shock at first when you no longer had the other girls around you after the split?
Not really because we had a break in between, and I was 23 when we went on our first little break – that's young. I'd already done seven years in the group so when we came back again, it wasn't too unfamiliar.
Was it nice to finally get known for being Nicola Roberts and not a member of Girls Aloud?
Just because you're in a group, doesn't mean you don't have your own interests. You might work with 20 other people and just because you work together every day, it doesn't mean you don't all listen to different music or go to different bars. That's just the way it is.
You were on reality series Styled to Rock a couple of years ago. Would you like to do something like that again?
I did really love doing Styled to Rock with Henry [Holland] and Rihanna. It was a challenge – television is a challenge – but it was great doing it with Henry because we're such good friends, so it was easy, and a subject that I was passionate about. It was a dream job.
Whose style are you admiring most at the moment?
I like Lana Del Rey. She's incredible – she doesn't really try that hard but when she tries, [she looks great]. I also like Jennifer Lawrence. Paloma Faith looks amazing, and she doesn't have any rules with her fashion – and she's a redhead!
Everyone's excited for the X Factor later in the year. You've been there, done that … what advice do you have for anyone considering auditioning?
Just that classic thing of, be yourself and work really hard.
Do you have any more solo stuff in the pipeline?
I'm just writing at the moment, every day, for various things, so it's nice to get out on photoshoots and not be in a dark room for 12 hours!
Tell us a bit about your work with the latest Lil-lets campaign
I think it's a great campaign. For a brand, it's great that they've taken more responsibility and set up a website that young women can actually go to and source help and seek advice, rather than just being a product available to buy. It's backing itself up, it's more of a 'help, go-to', rather than just a 'buy me'.
Can you personally relate to the campaign?
I have so many young girls on Twitter and social media always asking for advice, and I think it's important in general to be in touch and aware of how teenagers and young girls feel – they voice their thoughts so frequently online. I love campaigns like this because a teenager might feel like they're the only person in the world going through something and, in fact, they're not. It's just nice to highlight a topic that people don't often want to talk about. We're all changing at different speeds and paces and if you don't want to talk about it to your friend, there's somewhere to go online and find your problem, and find the answer.
When you were growing up, what important lessons did you learn?
We're always growing as women. The older you get, the more confident you get, and being a teenager is the most difficult time. They say when a woman reaches 30, she's at her most confident and most comfortable in her own skin.
There's pressure from society, and pressure from yourself as well, how you think you should look, but everybody is so different – no two people are the same.
May,01 2014
Apr,08 2014
Nicola Roberts has written songs for Cheryl Cole's forthcoming new album.
The singer-songwriter admitted that she has "loved" penning tracks for her former bandmate, despite it proving difficult at times.
I have loved writing for Cheryl! So much fun! Sometimes a heavy heart has come, being a best friend & writing from that perspective for her.

— Nicola Roberts (@NicolaRoberts) April 6, 2014
Cheryl later tweeted "@NicolaRoberts is like a little volcano just bubbling away waiting to erupt with hits! #watchthisspace #mygirl #soproud she's got me like :'("
Cheryl's fourth solo album is expected to be released later this year, following her return as a judge on the new series of The X Factor.
The star has also teamed up with Eminem songwriter Jon Bellion for her new collection, as well as recording a "strong" and "powerful" ballad.
Meanwhile, Roberts has previously written songs for both Little Mix albums DNA and Salute, as well as her solo record Cinderella's Eyes.