Sep,19 2014
Nadine appeared on Good Morning Britain on Thursday morning to promote Lord of the Dance: Dangerous Games.
She talked about her role in the show, her baby daughter (the presenters either seem to forget Anaiya is her name or don't know how to pronounce it!) Nadine also 'fangirls' when she sees a clip showing of one of Girls Aloud's performances in the studio years ago.
Pictures of her in the studios [HERE] and leaving [HERE] are available on the forum as usual!
Sep,16 2014
POST WRITTEN BY:
Hayley [Admin]
at
22:56pm
| Filled under:
Cheryl Cole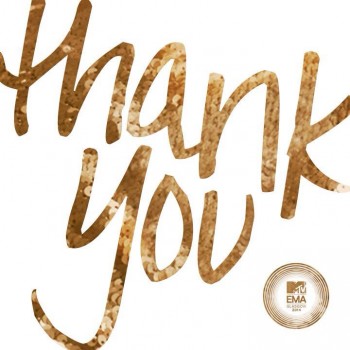 Cheryl has taken to Twitter to thank fans for voting her as this year's Wild Card in the Best UK & Ireland Act category at the 2014 MTV EMA.
The Crazy Stupid Love singer's soldiers secured her the victory ahead of The Vamps, Rita Ora, Arctic Monkeys, Clean Bandit and Coldplay, leaving the lady herself clearly overwhelmed.
After hearing that she will join One Direction, Calvin Harris, Sam Smith and Ed Sheeran in the category, Chezza tweeted: "So I guess it is official!!.. I have the best most loyal and dedicated supporters I could ever wish for…
"This one is all yours !!!! you got me am EMA nomination!!.. and you got me looking like (shocked face) and feeling like (crying face)."
The X Factor judge will now battle it out against her fellow nominees, with the champ going on to represent our region in the Best Worldwide Act category.
Congrats Chezza!
The 2014 MTV EMA is due to take place at The SSE Hydro Arena in Glasgow on Sunday, November 9 at 9pm CET. To find out more and to cast your votes, go to MTVEMA.com.
Source: MTV
Sep,16 2014
Nadine Coyle, who is currently appearing in "Lord of the Dance" at the London Palladium, says: "'I'm delighted to be supporting the 24th annual Macmillan's World's Biggest Coffee Morning on Friday, September 26. I love nothing more than getting together with friends for coffee and cake, so it really is the perfect way to raise money for such a brilliant cause. My uncle was looked after by the team at Macmillan, when he was ill with cancer, and my family will be forever indebted to the amazing service they provided during that difficult time."
Macmillan Cancer Support is hoping Friday, September 26 will see 5 million cups of coffee drunk and 10 million slices of cake eaten with the aim of raising over £20million for people affected by cancer right across the UK.
Here in Northern Ireland 3,500 people have registered to hold their own coffee morning and Macmillan NI is hoping to raise over half a million pounds.
The idea remains simple: get together with friends, colleagues or neighbours to hold a coffee morning and raise money for Macmillan, with every donation helping to ensure that no one faces cancer alone. There's still time to register for a kit, for more information visit: www.macmillan.org.uk/coffee, call 0845 602 1246 or text COFFEE to 70550.
Sep,16 2014
More pictures http://www.girlsaloudmedia.com/smf/index.php?topic=47185.0
Kimberley is taking part in this year's Children in Need campaign, to get the nation baking.
The idea is to get viewers to choose a classic cake and make their own version for the annual fundraising drive.
Along with actress Kara Tointon and presenter Laura Whitmore, Kimberley and Denise are encouraging everyone to then show off their creations by holding a bake sale.
'It is fun, delicious and will go on to help change the lives of disadvantaged children and young people right here in the UK,' said Kimberley.
Looking every inch the domestic goddesses, the foursome slipped on floral frocks to promote the campaign, whilst showing off something they made earlier.
Children in Need is on November 14th.
To get involved, visit bbc.co.uk/Pudsey for your fundraising pack.
Sep,16 2014
Its the finals! Our lovely Miss Harding made it all the way through to the end and we couldn't be more proud!
Each finalist had to do a routine on the Trapeze before taking on The Vault.
Watch above and see Sarah's parts from the show, where she got 38 out of 40 judges score for her routine!
She didn't win, but came Top 3 couples for the series.
Sep,16 2014
This weekend was the Arena Auditions, where those that got through to the first stage, had to perform to a live audience.
Watch
Download
The X Factor UK S11 E05 – Arena Auditions #1
The Xtra Factor UK S11 E05 – Arena Auditions #1
The X Factor UK S11 E06 – Arena Auditions #2
The Xtra Factor UK S11 E06 – Arena Auditions #2
Sep,13 2014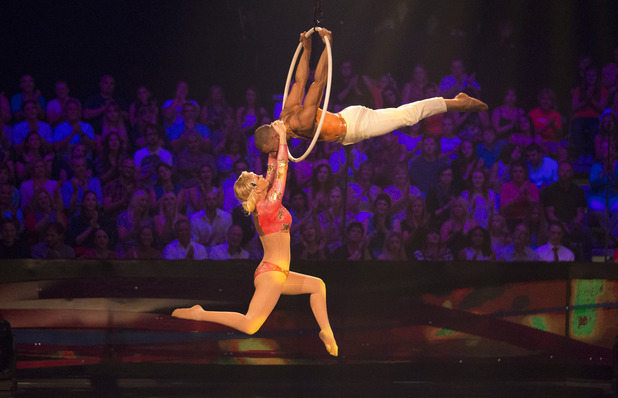 Tonight is the grand finale of BBC One's Tumble, and Sarah needs your votes!
We will tweet & post on Facebook the numbers to vote once revealed.
Voting from a landline is 15p and 15p from a mobile.
Voting opens after all finalists have performed 1 routine.
There are no excuses to not take part, as the lovely BBC people, have given us 3 FREE VOTES to use on their website.
Simply sign up, http://www.bbc.co.uk/tumble and go onto the voting page (when shown)  and use all your 3 votes for Sarah and Leon. More info about voting here.
Watch from 6pm
Come on #TeamSarah!
Sep,09 2014
Sarah went to the BBC Radio One studios today to appear on Scott Mills' afternoon show to play the infamous Innuendo Bingo.
The game is simple, sit opposite someone, hold some water in your mouth whilst you listen to a funny innuendo. If you laugh, the water from your mouth will obviously be sprayed over to the person opposite you.
Sarah got quite drenched with this one! Watch it again on the above video.