Sep,01 2014
Grimmy chats to Simon, Cheryl, Mel B and Louis about the new series of The X Factor.
[DOWNLOAD]
Sep,01 2014
Aug,31 2014
Week 4 of Tumble, and Sarah showed off her skills with a ball.
In her VT this week, we saw her struggle with coordination, but having a lot of fun and laughs in rehearsals. On the night, she made a few errors in her performance, but continued on and styled it well. She got a score of 29 from the judges.
She is also through to next week's Semi-Finals, well done Sarah! This means we get to start voting!!
If you missed it, give it a watch above! Thanks to Will for ripping this for GAM, watch above for Sarah's parts.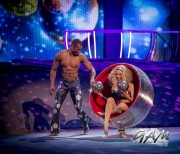 Aug,31 2014
The X Factor Season 11 kicked off last night on ITV1, and as usual did not disappoint! The first show includes a past contestant making Cheryl cry (again!), 2 wacky girls being so irritating they are good (really Simon??!) and a fan of Cheryl's trying her best to impress.
If you missed it, watch it above or download on the forum. [DOWNLOAD]
Watch the spin-off show 'The Xtra Factor' here: http://www.dailymotion.com/video/x24xibz_xtra-factor-e-11-e-1_shortfilms or [DOWNLOAD]
Episode stills are on the forum too:
Aug,31 2014
Sarah Harding is featured on the new Rymez single called 'Crazy For Your Love'. It also features Wiley and Sneakbo.
Rymez has uploaded a teaser onto his SoundCloud account, listen above to hear.
Already sounds like a stonker of a tune!
Thanks to SarahHardingAddicts for the info.
Aug,28 2014
Cheryl was seen on Good Morning Britain this morning, chatting to Richard Arnold as he caught up with her and Mel B backstage at an X Factor audition. Watch the interview above thanks to CherylCole Youtube.
She was also on a segment on This Morning, which you can watch below:
Aug,28 2014
With her baby due to arrive any day now, Kimberley Walsh is in full on nesting mode.
"It's quite nice, and I'm quite a homebody anyway. I'm kind of just pottering around the house," she told us.
Although she's got a "bit of a cold at the moment", Kimberley has prepared the nursery, stocked up on baby products and caught up on episodes of One Born Every Minute to help prepare for the birth of her first child.
"I'm enjoying it but there comes a point where there's nothing left to do! Then you have to sit back, relax and enjoy resting, which I guess is the whole point.
"You have to try to store up energy before the sleepless nights."
The star revealed that her bump is so big now that she struggles to get off the sofa.
"I feel a bit debilitated I suppose. As someone who is quite active and used to running around it's annoying to have to do everything so slowly.
"I'm at the point now where it's like, 'OK, I want the baby to come out. Now!'"
Is she nervous about giving birth?
"I think I'm more excited, which is strange," she said.
"I think that it's the anticipation of wanting to meet them and knowing whether they're a boy or a girl.
"Even though you know the birth will be quite painful, you focus more on finally getting to see them."
View all content of this post »
Aug,27 2014
The X Factor press launch hit London this evening, and Cheryl arrived in a black and white dress with her hair in a chic pony tail. The judges (minus Mel B) were in attendance to launch the first episode to the press, before it airs on TV this Saturday.
Check out the video below on what Cheryl had to say about the new series, seems like little has changed since she has been away.
and photos from the launch can be seen on the forum.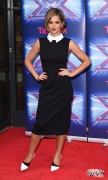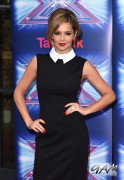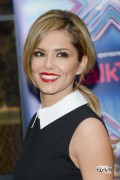 Follow us on
Twitter
for updates